Manchester United Football Club's latest home strip, which features the logo of new sponsor the Aon Corporation, was introduced in Vietnam on Thursday.
The American insurance firm held the event in Hanoi on the same day the new shirt was released in cities across the world. Aon called this July 15 'Aon United Global Day.'
No official figures have been made available for the four-year sponsorship deal.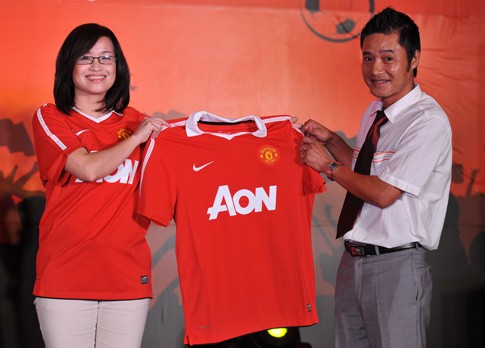 Two-time Golden Ball winner Nguyen Hong Son (R) receives a new Manchester United home shirt at an introduction in Hanoi on July 15.
Aon Vietnam chief executive Vu My Lan presented a Manchester United new shirt to Nguyen Hong Son, a former Vietnam midfielder who secured the country's Golden Ball title in 1998 and 2001. The title winner is voted annually as the best player of the year via a national poll organized by Sai Gon Giai Phong newspaper.
Almost 50 Manchester United Vietnam fans wore the new jersey at the event.
Three elements particular to this new Nike kit are described as Innovation (the chevron shaped perforations to provide breathability on the back of the jersey); Sustainability (the jersey is crafted out of recycled plastic water bottles); and detailing specifically inspired by the history of this English Premier League club.