MANCHESTER, England, Aug 14, 2011 (AFP) - Roberto Mancini believes adding fresh faces to his Manchester City squad could be enough to clinch their first ever Premier League title.
Manchester City, who showed glimpses of their potential by winning the FA Cup and finishing in third place last season, have been tipped to mount another serious challenge to rivals Manchester United's league crown.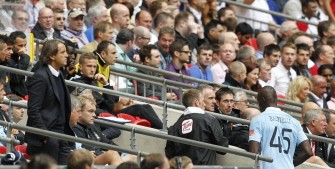 AFP - Manchester City's Italian player Mario Balotelli (R) heads down the tunnel after being substituted, as manager Roberto Mancini (L) watches the match against Manchester United during their FA Community Shield football match at Wembley Stadium in London on August 7, 2011. Manchester United won the match 3-2
The Manchester City manager has already signed the likes of Argentine striker Sergio Aguero this summer with the promise of further new big-name arrivals, including Arsenal's Samir Nasri, to bolster his attacking armoury.
The mega-rich club begin their season against newly-promoted Swansea at the Etihad Stadium on Monday, and Mancini said that title talk should wait will he had completed the squad for this season.
"We can talk about this (a title challenge) when we buy all the players that we need and complete our squad," he said.
"At the moment it's not complete. I am sure that if we complete our squad - this is a problem at the moment two days before the start of the season - that we can fight for the title.
"It doesn't matter whether you're the richest club or not because the market is difficult.
"But I think it was important to have players we want for the start of the season. At the moment we don't have these players that I ask for.
"I hope that we can have them this week. It was the same last year. The first few games - we lost against Sunderland and drew against Tottenham.
"After that we had two or three players, but it is important to have all the players before."
While Manchester City have untold millions, they will be facing a Welsh side with one of the smallest budgets in the league.
Yet Mancini believes that will count for nothing and anticipates a tough evening against a side motivated to impress after 28 years outside the top-flight.
"When you start the season and play a team that has come from the Championship it is really difficult," he said.
"Last season West Brom, and all the teams that came up from the Championship, were hard games to play against.
"This will be really difficult because it's the first game. When you start the season, the first 10 games are really difficult because maybe the squad is not really 100 per cent.
"The squad needs another four or five games to find good form and I have watched many Swansea games. They play good football. They don't play long ball and they have good players and a good manager."
Wantaway Argentina striker Carlos Tevez, who has only returned to training with his future still uncertain, will not be pushed into the fray.
Swansea manager Brendan Rodgers admits it will take a miracle for the Welsh club to survive in the Premier League.
The Swansea manager has conceded he would happily take 17th position - one place above the relegation places - at the end of the club's first season among the elite.
Rodgers is under no illusions about the size of the task ahead for the season, beginning with the baptism of fire against Manchester City.
"The miracle would be to stay in this league," said Rodgers.
"It's a massive challenge.
"They (Manchester City) are a club that are moving forward very quickly.
"We are competing against a side with trillions, not millions or billions, but trillions.
"They want to be a super-power in world football, but they are also looking to build something.
"But they are still human beings, they have got great qualities, but they can still have bad days.
"If we bring our A game then we will have a chance, you never know.
"Although the reality is if we bring our A game and Man City bring their A game - then it could be difficult."