JOHANNESBURG, July 15, 2010 (AFP) - Anti-apartheid hero Nelson Mandela celebrates his 92nd birthday at home with his family on Sunday, just one week after the World Cup showed off the successes of democratic South Africa.
"The man who has suffered so much and who, when he came out (of jail) set out to bring peace, solidarity and humanity, he had a dream, and his dream was to see the World Cup in his country," FIFA president Sepp Blatter said this week.
"That dream has now come true."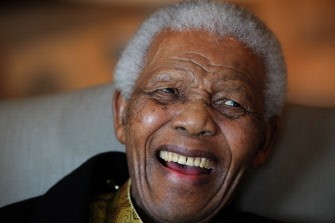 A recent handout photograph of former president Nelson Mandela released ahead of his birthday on July 18, 2010. AFP
After spending 27 years in an apartheid prison, Mandela emerged in 1990 to lead South Africa to elections that made him president in 1994.
He stayed in power for only one term, but even out of office remained one of the driving forces behind bringing the World Cup to South Africa.
"As a unifier and a world symbol for peace, (he) knew the role the event will play in uniting and deepening the spirit of patriotism our nascent democracy so much thirsted," said the committee charged with organising commemorations of his birthday.
"People of different races, colour or creed came together under a singular national identity," said the committee which bridges government and parliament.
The success of the World Cup flatly dismissed the racist fears of the apartheid era, said Verne Harris, historian at the Mandela Foundation.
"In terms of the struggle against oppression and white domination, there is a narrative from the apartheid area that black South Africans would not be able to run this country efficiently and effectively," he said.
"What an event like this does, it provides an opportunity to show that it is not true, we can deliver at the highest levels."
Despite his advanced age and his grief over his great-granddaughter, killed in a car accident on the eve of the tournament, Mandela braved the winter cold to appear for a few moments at the July 11 final.
In gloves, hat and overcoat, he sat next to his wife Graca Machel in an open vehicle to tour the pitch and wave to the fans before Spain's victory over the Netherlands.
One week later, he will celebrate his birthday at his Johannesburg home with his family and nearly 100 children from villages around his childhood home in the rural Eastern Cape province.
But this year the world will celebrate with him on the first "Nelson Mandela International Day", which the United Nations decided in November would be observed every year on his birthday to recognise his struggle for peace and freedom.
Blues legend B.B. King performed in Madrid on June 2 in a free show to kick off Mandela Day celebrations in Spain.
Madrid was chosen months ago by Mandela's AIDS charity 46664 to host an annual concert in honour of the former president, but the event has been delayed until October, according to the arena hosting it.
The UN General Assembly will hold an informal session on Friday in honour, while the UN mission in Darfur is organising a "football for peace" tournament.
The Mandela Foundation is asking people around the world to give 67 minutes of their time to volunteer work -- one minute for every year that he spent in the struggle for equality.
To publicise that call, celebrities are journeying on motorcycles from Johannesburg to Cape Town. They will be welcomed on arrival Sunday by Morgan Freeman, the American actor who played Mandela in the film "Invictus".
South African political leaders will also do their bit. Ministers and parliamentarians have promised to roll up their sleeves for volunteer projects in the Eastern Cape, where President Jacob Zuma will give a speech Sunday in Mandela's hometown.