BUENOS AIRES, July 26, 2010 (AFP) - Argentina coach Diego Maradona has announced that he hopes to continue in his role but only if he does not have to change his backroom staff from the World Cup in South Africa.
"I've got a meeting with (Argentina Football Association president Julio) Grondona this week and this week I'll decide whether to continue or not," Maradona told America TV in a programme broadcast on Sunday night.
"It depends on what Grondona says and on whether he accepts what I ask him. I want to (continue) because I've spoken with the boys (the Argentina players) and I have their support."
Grondona confirmed last week that he was due to meet Maradona on Monday.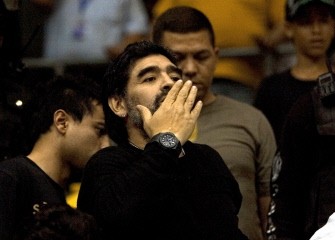 Diego Maradona greets fans during a visit to Caracas, Venezuela on July 21, 2010. AFP PHOTO
An AFA spokesperson said that Grondona will ask Maradona to stay on in the role until the 2014 World Cup in Brazil, despite overseeing Argentina's 4-0 defeat by Germany in the quarter-finals of this year's tournament.
Maradona, who became national manager in October 2008 despite a lack of coaching experience, will reportedly agree to prolong his contract only if his technical staff from the World Cup remain in place.
Press reports, however, claim Grondona is eager to sideline Maradona's faithful assistant Alejandro Mancuso.
"We spent 40 days together (during the World Cup). If he touches my kitman, my masseur, I'm going," said Maradona on his return from a trip to Venezuela, where he was received by his friend, president Hugo Chavez.
Maradona is the greatest player in Argentina's history, having led the country to their second World Cup title as captain in Mexico in 1986.
The albiceleste have not won a title since the 1993 Copa America, however, and will host the next edition of the South American championship in 2011.