LONDON, June 19, 2011 (AFP) - Rafael Nadal played down his chances of matching Roger Federer's Grand Slam haul here Sunday, saying the likelihood of reaching his rival's record of 16 titles remained "a dream."
After adding four more Grand Slam titles in the past year the 25-year-old Spanish world number one now has 10 to his name and will be targeting an 11th at Wimbledon over the next fortnight.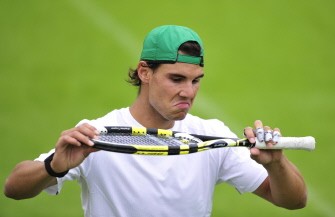 AFP - Nadal returns the ball during a training on the eve of the Wimbledon Tennis Championships
Victory at the All England Club would see Nadal move alongside Bjorn Borg and Rod Laver in the all-time standings, one behind Roy Emerson on 12, three behind Pete Sampras (14) and five behind Federer.
But Nadal dismissed suggestions that Federer's record was in his sights here Sunday, saying he was "very far" from the Swiss master's benchmark.
"I am not close to the 16 of Roger," Nadal said. "Sixteen is a lot.
"We can dream about a lot of things. For me it's a dream. Maybe not for you."
Reigning champion Nadal -- who opens the defence of his title with a first round match against American Michael Russell on Centre Court here Monday -- enjoyed a stellar 2010, scooping the French, Wimbledon and US Open crowns.
But although Nadal defended his French crown at Roland Garros earlier this month, he doubted whether he would be able to emulate his feats of last season.
"Last year was in my opinion very impossible to repeat -- three Grand Slams in a row," Nadal said. "I am very happy about what's going on this season. But I don't think I will repeat what I did last year for sure."
Virtually invincible on the red clay of Roland Garros, Nadal has slowly but surely parked his tanks on the lawns of Wimbledon in recent years, reaching four of the last five finals. The only year he missed was 2009, when a recurrence of a knee injury ruled him out of the tournament.
"I said 1,000 times that my dream was always to play well here in Wimbledon," Nadal said. "In the beginning of my career everybody talked a lot that with my style of game it's gonna be very difficult to play very well here.
"I did my best since the start of my career to play well here -- playing the week after Roland Garros, coming here one week before, having the right preparation as much as I can to be ready for this tournament.
"The only problem of grass sometimes, is if you play against a big, big server, because the game is too fast and it's not nice to play because you feel that for a lot of games you don't touch the ball."
"I don't have the volley of Roger, for sure. But I think I'm fast and my movements are enough good to go to the net. I have a good enough volley to do it," he said.
Nadal meanwhile is already eyeing the defence of his Olympic gold medal next year, when Wimbledon will host the tennis tournament of the 2012 London Games.
"The Olympics are a very special event. The experience that you can live on the village, and, you know, live these moments with the rest of the sports people, that then is something special," Nadal said.