JOHANNESBURG (AFP) - European football minnows Slovenia seek a first major-tournament victory on Sunday when they confront fellow Group C outsiders Algeria in Polokwane.
The only country at this World Cup without a nickname featured in the 2002 finals and also the 2000 Euro chamopionship and the best they could manage was a couple of draws in the latter.
Spain, South Africa and Paraguay defeated the Slovenians in the World Cup eight years ago, but many pundits believe they can turn the tide against rivals considered the weakest of six African title contenders.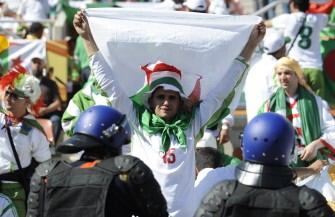 An Algeria fan holds up a flag before the Group C first round 2010 World Cup football match Algeria versus Slovenia on June 13, 2010.
Coach Matjaz Kek would not commit to a prediction as he prepared his squad at a college in a small, upmarket Johannesburg northern suburb where opulence is taken for granted.
He ducked questions about Group C favourites England, saying the only team on his mind was Algeria, and refused to write off the North African 'Desert Foxes'.
"It will be interesting to see how the African teams fare in their backyard," he said after South Africa bridged a 66-place gap in the FIFA rankings by drawing 1-1 with Mexico in the tournament opener.
"We cannot boast of key players like some teams here. Our star is the team. Teamwork is the factor on which I base my hopes for World Cup success," said the former Austria-based defender who turns 50 next year.
The match at the 46,000-seat Peter Mokaba Stadium is one shock qualifiers Algeria and Slovenia dare not lose with England and the United States hot favourites to reach the knockout second phase.
It is ironic that neither country is given much chance of avoiding the first round cull given both made it to South Africa via play-off victories over opponents occupying top-20 FIFA rankings places.
Slovenia eliminated Guus Hiddink-managed Russia on away goals after winning 1-0 at home through a Zlatko Dedic goal following a 2-1 away loss in a play-off between teams who finished group runners-up.
And Algeria returned to the World Cup after a 24-year absence by edging record six-time African champions Egypt 1-0 in neutral Omdurman thanks to a Anther Yahia goal.
It was a heroic triumph as a bus carrying the 'Foxes' had been attacked by rock-throwing Egyptian supporters before a qualifier in Cairo a few days earlier, shattering windows and leaving several Algerians bloodied.
France-based midfielder Yazid Mansouri led his countrymen through the 13-match qualifying campaign, but will not shake hands with Slovenia captain Robert Koren from English Premiership club West Bromwich Albion.
Veteran Mansouri has been omitted by coach Rabah Saadane with Hassan Yebda from FA Cup runners-up Portsmouth taking his place owing to superior form and Yahia assuming the captaincy.
Although Algeria did not get beyond the first round in 1982 despite defeating West Germany and Chile nor in 1986 with much stronger squads than that in South Africa, Saadane remains hopeful.
"We will play each game like a cup final. We are going to compensate for technical weaknesses with the desire we have always shown in our qualifying matches," said the five-time national coach.
The grandfather with the walrus moustache has ceded first place in the group to England and his admiration for the 'Three Lions' extends to addressing their Italian manager Fabio Capello as Mr Capello.
KEY TO MATCH
Karim Ziani (ALG) v Robert Koren (SLO)
Given the win-or-bust nature of this game it is likely to be a cautious affair with a moment or two of magic from either team capable of settling who takes three crucial points. Veteran Ziani is the best Algerian bet with his creativity on the right side of midfield while Koren organises Slovenia from a central slot.