Hopes for SEA Games glory returned to Viet Nam as Friday and Saturday turned out to be the two most successful days for Viet Nam so far.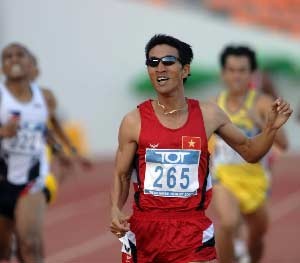 Dinh Cuong takes the lead on his race
Early yesterday, Viet Nam raised its gold record to 15 medals thanks to Viet Nam's efforts in Men's Rowing Pairs. Another two bronze medals in were also won in rowing, in both the Women's Single Scull and Women's Lightweight Four events.
In fencing, Viet Nam's Nguyen Thi Le Dung won her first gold in the Women's Individual Sabre.
Yesterday also saw Asian Athletic Champion Truong Thanh Hang once again take gold in her second event, Women's 800m.
Also in track, Nguyen Dinh Cuong, Bui Thi Nhung and Vu Van Huyen pocketed three more golds in Men's 800m, Women's High Jump and Men's Decathlon.
Viet Nam's swimming team saw its first gold from the success of Nguyen Huu Viet in his Men's 100m Breaststroke.
The biggest surprise yesterday came from the Viet Nam's wresting team when two Vietnamese "muscle" girls, Nghiem Thi Giang and Luong Thi Quyen, knocked out their rivals and brought in two more gold medals.
Vu Tra My, Vietnam's "little girl" of Wushu, unleashed a winning performance in Women's Chanquang, three events combined, and increased Vietnam's gold collection to 24 medals in total.
To date, the top three medal winners at the 24th SEA Games are sitting safely in the order of Thailand, Viet Nam and Singapore. Viet Nam now has 24 gold medals, 11 silver and 29 bronze.
Related articles:
Viet Nam Jumps Up, Singapore Falls Down
Hopes for SEA Games Glory Return to Viet Nam
Viet Nam Breaks Its Own 5-Gold Target