MADRID, March 5, 2011 (AFP) - A fan tried to stab Real Madrid coach Jose Mourinho at a Spanish airport but ended up injuring his bodyguard instead, Spain's Cadena Ser radio network reported Friday.
The attack at the A Coruna airport in northwestern Spain occurred when Mourinho was signing autographs last Friday.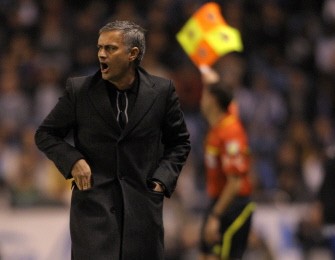 Real Madrid's coach Jose Mourinho reacts during the Spanish league match RC Deportivo de La Coruna vs Real Madrid on February 26, 2011 at Municipal de Riazor Stadium in Coruna. The match ended in a 0-0 draw. AFP
The bodyguard only became aware of the four-inch stab wound when he boarded the bus. According to El Mundo newspaper, the attacker had targeted the Portuguese coach.
Real Madrid meanwhile decided to beef up security for the former Chelsea boss, Cadena Ser added.