Clay king Rafael Nadal won the Monte Carlo Masters title for the third straight year by beating top seed and big rival Roger Federer in the final.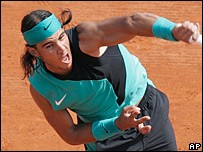 Nadal has not lost on clay for over two years
The Spaniard won 6-4 6-4 to register his 67th straight victory on clay and make it five wins out of five against Federer on that surface.
Nadal, who broke once in each set, fended off three break points in the first set but faced none thereafter.
Federer has now lost in three events in a row for the first time since 2003.
It is 20-year-old Nadal's eighth Masters Series title and he has not been beaten on clay since April 2005.
He beat Federer last year in the Monte Carlo Masters, the Rome Masters and the French Open finals.
The left-handed Spaniard, who did not drop a set in the tournament, is the first man since Ilie Nastase (1971-1973) to win the Monte Carlo title for the third year in a row.
"It is an honour to be up against Federer here in Monte Carlo and to win for the third time," Nadal admitted after the win.
"This match was very close. It's a surprise to win in two sets against the world number one but I was confident because I was playing my best tennis this week.
"In the beginning, Roger was moving very good and attacking the ball. It was tough for me. But after he had some mistakes and I felt very comfortable."
Federer made 38 unforced errors - half on his forehand - and Nadal won on his second match point when Federer sent a backhand long.
"Congratulations to Rafa," said the world number one. "What he has achieved is fantastic.
"It's good for me to play against him. He sometimes makes me improve my backhand. I think that problem is solved for me.
"I should have used the chances when I had them early on but unfortunately it turned around with a few mistakes. I feel this match gave me some information.
"I think I'm absolutely in the mix with him on clay, which is how I wanted to feel. It's always disappointing to lose but I feel like I didn't play well and still it was close. That's a good thing."