Vietnam coach Henrique Calisto introduced a working plan for his team on Monday, not more than 12 hours after his players secured their first ASEAN title with a 3-2 victory on aggregate over three-time champions Thailand in Ha Noi.
The Portuguese tactician met with Vietnam Football Federation officials in Ha Noi and they agreed upon the plan.
Next comes qualification for the 2011 Asian Cup and Vietnam are in a group that contains China, Lebanon and Syria. The new ASEAN champions will play Lebanon in Ha Noi on January 14.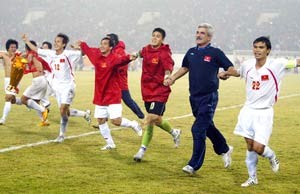 Coach Calisto (2nd,R) and his players salute the crowd in My Dinh Stadium, Ha Noi after Vietnam's win over Thailand in the AFF Suzuki Cup final on Dec. 28 (Photo: SGGP)
Calisto decided a training camp start on January 6 in Ha Noi. He also decided to call up three players – midfielders Ngoc Duy and Cong Huy from The Cong Club and defender Ngoc Anh from Nam Dinh Club – to add up to his 22-strong team that were crowned the regional champions.
This means national players from two clubs Becamex Binh Duong and Ha Noi ACB have only one rest day after their January 4 match for the country's Super Cup. On that day, Vietnamese League champions Becamex Binh Duong will play National Cup holders Ha Noi ACB for the Cup at Go Dau Stadium in Binh Duong Province.
The home side will include such national players as Nguyen Vu Phong, Vu Nhu Thanh, Huynh Quang Thanh and Tran Truong Giang, while the visiting side has only Pham Thanh Luong in Calisto's team.
After the Ha Noi game against Lebanon, Calisto and his team will leave for China to play the hosts in another Asian Cup qualifier on January 21.
After the historic victory that brought Vietnam the first title in the history of the ASEAN championship, the Portuguese tactician told media he would stay rather than leaving his post.
Also on Monday, Vietnam Football Federation president Nguyen Trong Hy said to reporters that Calisto was a talented coach, and his organization was seeking to keep the Portuguese tactician for the national team.
Local fans expect that their team would perform well as they did in the 2007 Asian Cup, when they were the only Southeast Asian team to go through to the quarterfinals.
Also given with the ASEAN trophy, Vietnamese fans' hopes are high that their Golden Stars can build on their success for the 2009 Southeast Asian Games taking place in Laos. Football in the Games is only for under-23 players. However, Vietnam's Under-22 team lifted the Merdeka Cup hosted by Malaysia in October 2008.