The organizational board announced top ten of Vietnam's outstanding athletes, coaches and paralypic athletes, coaches 2014 on December 31.
According to final result, swimmer Nguyen Thi Anh Vien was ranked the first in a list of top ten of most outstanding athletes, with 1077 points that brings an unexpected result compared to previous prediction.

Leading experts predicted ever that Wushu athlete Duong Thuy Vi and weightlifting athlete Thach Kim Tuan would unopposed candidates for the title.
Last year, Anh Vien also had been ranked the first position among Vietnam's top outstanding athletes 2013. This is the second consecutive times that Anh Vien earned the noble title.

Weightlifting coach Huynh Huu Chi was voted with 439 points as first among Vietnam's top outstanding coaches.
Swimming coach Dong Quoc Cuong stood the first position in list of Vietnam's top outstanding paralympic coaches.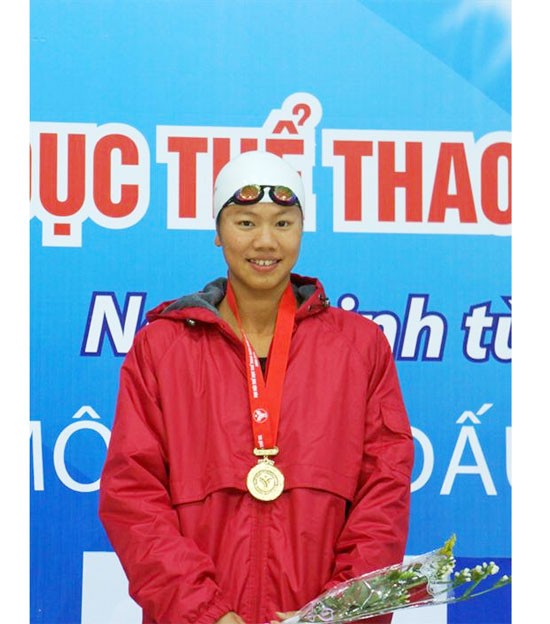 Nguyen Thi Anh Vien is ranked the first position.
Here is a list of top ten of Vietnam's top outstanding athletes in 2014:
1. Swimmer Nguyen Thi Anh Vien with 1077 points

2. Shooter Hoang Xuan Vinh with 975 points

3. Weightlifting athlete Thach Kim Tuan with 944 points

4. Wushu athlete Duong Thuy Vi with 678 points

5. Gymnastics thlete Phan Thi Ha Thanh with 677 points

6. Quach Thi Lan (Track and field) with 381 points

7. Nguyen Hoang Ngan (Karatedo) with 228 points

8. Nguyen Thi That (Bicycle race) with 223 points

9. Nguyen Tien Minh (Badminton) with 194 points

10. Bui Thi Thu Thao (Track and field) with 150 point

Top five of national top outstanding Paralympic athletes in 2014 include:

1. Swimmer Vo Thanh Tung with 499 points

2. Weightlifting athlete Le Van Cong with 373 points

3. Swimmer Nguyen Thanh Trung with 331 points

4. Weightlifting athlete Nguyen Binh An with 207 points

5. Nguyen Be Hau (Track and field) with 153 points