Nguyen Tien Minh, the world No.82, defeated a Japanese player, the world No.23 at the Asian Badminton Championship 2006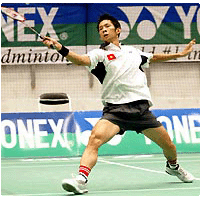 Nguyen Tien Minh at the Asian Badminton Championship 2006
The Asian Badminton Championship 2006 has now been staging in JohoBaru (Malaysia). Leading players in the region has been showing up there for the honorable champion title.
Vietnams's exellent players like Nguyen Tien Minh, Tran Thanh Hai, Duong Phuong Nam, Le Ngoc Nguyen Nhung, Nguyen Thi Binh Tho, participate in single, mixed double events.
In Men's single event, Vietnamese player Nguyen Tien Minh, the world No. 82, had an excellent performance with emphatic 2-0 (21-12 /21-16) win over the Japanese ninth seeded player Shoji Sato, the world No. 23, in the first round of the Asian Badminton Championship 2006.
With a good control over the Japanese player, Tien Minh continuously went ahead and took the first set easily.
In the second set, both Shoji Sato and Tien Minh followed the defense strategy. However, Tien made good chances of scoring points and added the second set to seal his victory . Tien Minh would play in the next match against Hashim Muhd Roslim (Malaysia), the world No 59. Boonsak Ponsana (Thailand), the world No. 16, would be Tien Minh's opponent if he could beat Hasim.
Also in this event, other Vietnamese players such as Nguyen Quang Minh, Duong Phuong Nam, Nguyen Hoang Hai were all defeated by players from Chinese Taipei, Indonesia, and Japan.
In Women's single, Nguyen Thi Binh Tho failed in the third match of the preliminary round.
Vietnam also had an important victory over the host team in the mixed double event. Tran Thanh Hai - Le Ngoc Nguyen Nhung (Vietnam) defeated Khoo Chung Chiat – Han Chiou Hwee (Malaysia), the world No. 215, 2-1 (17-21/22-20 /21-12) in the first match. They would be in a tough match against Rijal Muhammad – Nursugianti(Inodnesia), the world No.40.
However, the mixed double Duong Phuong Nam – Nguyen Thi Binh Tho lost the game to Zhang Wei – Ya Yang(China) at 0-2(4/21 11/21).