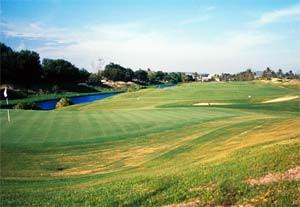 Ocean Dunes Golf Club (Photo: courtesy of the club)
The 11th Viet Nam Open Golf Championship will take place on August 25-27 at the Ocean Dunes Golf Club, which has been selected as one of the 'Best 500 Holes in the World' by the USA's Golf Magazine.
The tournament will consist of six divisions being Professional, Men's Gross, Men's Net, Men's Callaway, Ladies Gross and Ladies Net.
The competition will commence on Friday, August 25 with participants checking in, followed by practice rounds and driving range. Saturday and Sunday are the time for real swings.

Prizes will be awarded for closest to the pin, longest drive, the straightest drive and include flights as well as hotel accommodation. There will also be prizes for the lucky winners of the championship.
Gannon Vietnam, an American company specialized in packaging, warehousing, logistics, beverage production and infrastructure development, is again the title sponsor for the fourth consecutive year.
The Ocean Dunes Golf Club, a member of the Finest Golf Clubs of the World, is located on a white sandy windswept beach of Phan Thiet City, about 200 kilometers north of Ho Chi Minh City. It is a natural site with sand dunes, sea breezes and fantastic sea views.
Related links
Ocean Dunes Golf Club
Gannon Vietnam