Viet Nam is tied at the top of the Beijing Olympic Qualifying Group C after a convincing 2-0 victory over Oman at Ha Noi's My Dinh Stadium. The host side produced a dazzling display of great defense and perfect counter attack to avenge their 1-3 loss to Oman three weeks ago.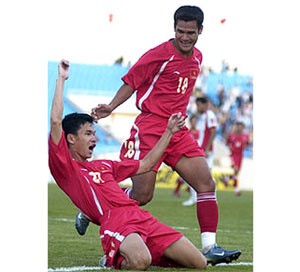 Minh Chuyen (left) celebrates after scoring for Viet Nam
Midfielder Vu Phong opened the scoring in the second minute when he curled in a superb 20-meter free kick beyond the reach of goalkeeper Riyadh Sabeit.
A stunned Oman responded with several attacking spells by their speedy wingers from both flanks and almost had the equalizer in the 8th minute when captain Hassan Almachni was left unmarked to fire from Mukhaini's long cross from the right flank, but the ball sailed just wide of the post.
Three minutes later the Omani captain wasted another glorious chance to level for the visitors when his header from a right long cross went straight to goalkeeper Duc Cuong.
Vietnamese midfielder Minh Chuyen picked up the first booking in the 18th minute for tripping Abdul Khaaliq.
Viet Nam fought back and Anh Duc went close when he headed a free kick by Vu Phong from the right flank over the bar in the 23rd minute.
Minh Chuyen made it two up eight minutes later with a close-range finish after a serious mistake by an Omani defender who tripped and failed to intercept a long cross from Vietnamese winger Tien Thanh from the left.
Oman rallied in the rest of the first half but their attempts to get back into the game only succeeded in making themselves more vulnerable to Viet Nam's counter attack.
Midfielder Vu Phong wasted a wonderful chance to extend the lead when he fired a free kick by striker Cong Vinh wide of the post in the 41st minute.
Minh Chuyen, who was in sublime form, forced a save from Riyadh Sabeit three minutes later with a powerful volley from outside of the penalty area.
The second half was four minutes old when Omani defender Balushi was allowed to charge the goalmouth but his header from the left drifted over the bar.

Vietnamese striker Thanh Binh got in on the act too but he shot a low cross from Tien Thanh wide of the post in the 63rd minute.
Seven minutes later Cong Vinh sent a perfect pass into the path of Thanh Binh but goalkeeper Riyadh Sabeit denied the Dong Thap striker.
Duc Cuong excelled himself by blocking Almachni's powerful shot from more than 30 meters out in the 75th minute.

The visitors just missed pulling a goal back when Lawati lobbed the ball over the bar in the 81st minute.
"I do believe in my boys anyway but I was mightily impressed with their display today. Everyone, especially Minh Chuyen, played superbly and our morale was high. Oman produced a good performance too, but they couldn't really bounce back after our early goal," Mai Duc Chung, assistant of Viet Nam's coach Alfred Riedl, said after the match.
At the post-match press briefing, Omani coach Azarri did not share Chung's opinion of the visitors' performance. "I'm very disappointed with my boys' poor display. Their morale collapsed after the opening goal in the second minute. I wanted them to keep up the pressure by attacking constantly but they simply could not do it. Olympic Viet Nam played a very good game today. The early goal lifted their spirits immensely. However, with two more matches to play, we still have a chance to capture the leading position in our group."
Olympic Viet Nam: Duc Cuong; Viet Cuong, Long Giang, Xuan Hop, Tien Thanh; Vu Phong, Duy Nam, Minh Chuyen, Anh Duc, Cong Vinh; Thanh Binh.
Olympic Oman: Riyadh Sabeit, Abdul Khaaliq, Saad Suhail, Hassan Zahir, Ahmed Mubarak, Al Farsi, Abdullah Thuwaini, Younis Mubarak, Issa Marhoon, Mohammed Shami, Mohammed Ghassani.