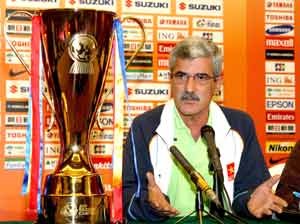 Vietnam coach Calisto speaks at the pre-match conference (Photo: SGGP)
Vietnam coach Henrique Calisto said at Saturday's pre-match press conference in Ha Noi that his team must remain focused throughout Sunday's second-leg final of the ASEAN championship with Thailand, who they beat 2-1 on Christmas Eve in Bangkok.
"We are so near the trophy but if we let up even for a moment and lose concentration, it will be a problem," the Portuguese coach said.
"I will not touch the trophy yet," he said when asked by a journalist to describe what it felt to hold the Cup.
The trophy was placed on the table, just beside the Vietnam coach and Thailand coach Peter Reid, a former England international player who used to be boss at Manchester City and Sunderland.
Calisto said he did not think of the trophy. "Right now, our focus is on the game. We have only one more game to go."

He said he had told his players that Thailand were a very-hard-to-defeat team, but he believed his men would perform well to make the Cup stay in Ha Noi.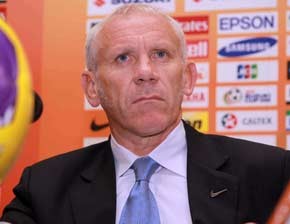 Thailand coach Peter Reid at the pre-match conference (Photo: SGGP)
Meanwhile, Thailand coach Reid said, "We will have to do all we can to take the title right in Ha Noi. I do believe that Thailand will make it."
After stunning the Thais 2-1 in Bangkok, Calisto and his players have been working hard to prepare for the Sunday game at My Dinh National Stadium. He knows when playing three-time champions Thailand, it would be a problem if his players lose concentration.
The last time Vietnam made the final of the regional championship was exactly 10 years ago when they played Singapore in the final in Ha Noi. The hosts were defeated by a lucky goal from Singapore defender Sasi Kumar's back.

Actually, the regional crown went to Vietnam in 1959 when the southern Vietnam team beat Thailand 3-1 in Bangkok in the final of the first SEAP Games (the name of the Southeast Asian Games at that time).