Prime Minister Nguyen Xuan Phuc has sent a message commending the Vietnamese Paralympics delegation for the outstanding performance of its members at the ongoing 2016 Paralympics in Rio, Brazil.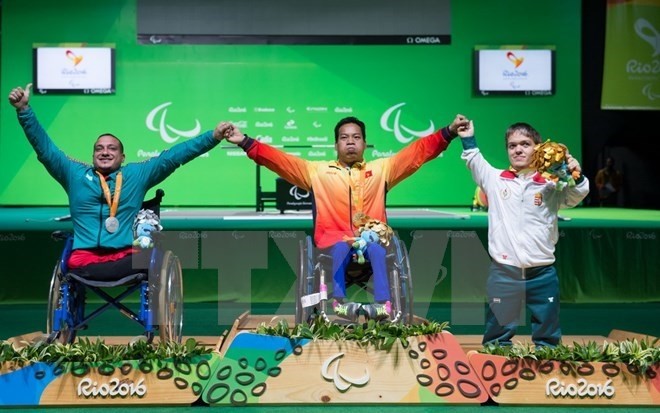 Le Van Cong (centre) bagged the first-ever gold medal at a Paralympics (Photo: Xinhua/VNA)
On September 9, power-lifter Le Van Cong bagged the first-ever gold medal at a Paralympics for Vietnam since 2000 when the country first joined the game, and set a new world record of 183kg in the men's 49kg category.
"I am very delighted to learn that power-lifter Le Van Cong performed exceptionally at the Paralympics Rio 2016, winning a gold medal and breaking the world record," he wrote.
"He is the first Vietnamese athlete with disabilities to bring the glory to the country, reflecting the will, perseverance, and determination of Vietnamese youth to overcome difficulties and rise up," stated the PM.
The Government leader also asked the sport sector and media agencies to popularise the example of Cong, thus encouraging all people, especially the disabled, to rise from difficulties and contribute to the sector and society.
He also conveyed his congratulations to the delegation and Le Van Cong in particular, expressing his hope that members of the delegation will win more medals at the Paralympics 2016.
The Vietnamese delegation at the Rio Paralympics 2016 comprises 11 athletes who are vying in three events, including power-lifting, track and field, and swimming. Along with Le Van Cong, swimmer Vo Thanh Tung is another hope of Vietnam at the game.
The same day, Minister of Culture, Sports and Tourism Nguyen Ngoc Thien also sent a congratulatory letter to the delegation, highlighting that the success of Le Van Cong has shown the strong will and resilience of athletes with disabilities as well as the Vietnamese people in general.