VAAL, South Africa (AFP) - Chile will start as favourites against Switzerland in Monday's World Cup Group H match, Swiss coach Ottmar Hitzfeld said on Saturday.
The 61-year-old German - one of only three coaches to have won the Champions League with two different clubs - said that despite his side having beaten European champions Spain 1-0 in their opening match they did not merit being favourites.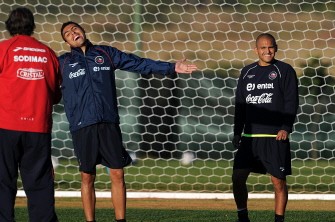 Chile's defender Gonzalo Jara (C) jokes with Chile's striker Humberto Suazo and Assistent coach Luis Bonini (L) during a training session in Nelspruit on June 19. AFP
Hitzfeld based his claim on Chile's opening 1-0 win over Honduras and their qualifying campaign.
"Switzerland are not favourites, it will be Chile," said Hitzfeld, who won the Champions League with Borussia Dortmund and Bayern Munich.
"This team really impressed me. Firstly in qualifying. Not many teams end up finishing above Argentina.
"Against Honduras, the Chileans were unbelievable and they could have 3-0 or 4-0 instead of 1-0. They are a solid unit, with very fast players."
Hitzfeld said he expected a more complicated match than against the Spanish where a second-half goal by Gelson Fernandes accounted for the tournament favourites.
"It will be above all more difficult on the mental front. It is imperative that we are totally focused.
"In terms of strategy, we will have to be even more compact than we were against Spain.
"The victory against Spain was an extraordinary moment but will be pointless if we fail to reach the second round."
Hitzfeld, whose contract runs till 2012 and has hinted he would not return to club management, said that he had been hugely proud of his players, who grabbed the win despite the absence of two of their most influential players in striker Alexander Frei and West Ham midfielder Valon Behrami.
"They were utterly fantastic, surpassing themselves. If we look at the statistics, they ran a total of 120 kilometres to the 115 covered by the Spaniards," said Hitzfeld.
"There has been no sense of euphoria among us. We took three points against Spain.
"It is the type of present that one doesn't expect. Nothing is decided in this group. But we have nevertheless a real chance to finish top of the group, which would give us an extra day's rest before the second round," he said.
Switzerland, twice quarter-finalists, round off their group matches against Honduras in Bloemfontein on June 25.