ROME, Feb 16, 2011 (AFP) - Tottenham manager Harry Redknapp blasted former Arsenal midfielder Mathieu Flamini over a horror studs up, two-footed lunge that he said could have broken Vedran Corluka's leg.
The Croatian was forced off after the shocking challenge that somehow earned the Frenchman only a booking.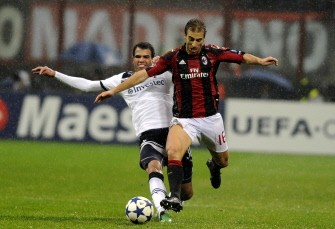 AC Milan's French midfielder Mathieu Flamini (R) fights for the ball with Tottenham Hotspurs' Brazilian player Cordeiro Sandro during their Champions League match on February 15, 2011 at San Siro. AFP
It means he will be available for the second leg at White Hart lane in two weeks time where Spurs will be defending a 1-0 lead against AC Milan following a glorious European night for the English side at the San Siro.
Peter Crouch scored the only goal of the game 10 minutes from time after Aaron Lennon scorched away on the counter-attack leaving strewn Milan bodies in his wake.
While he was delighted with the result, Redknapp was outraged at the leniency shown to Flamini.
But he made light of a headbutt by Milan midfielder Gennaro Gattuso on Spurs assistant manager Joe Jordan, a former Milan player and renowned hardman, after the final whistle.
"I don't know why he got so silly, Gattuso had a flare up with Joe and obviously he hadn't done his homework," joked Redknapp.
"He could have picked a fight with someone other than Joe. He put his head into Joe's face, he went crazy and lost his head.
"But during the game that tackle from Flamini was horrendous, it's a sending off.
"He had two feet off the floor, it's a leg breaking tackle, it could have broken Corluka's leg easily, he's done some damage but it could have been worse.
"I'd like to see (UEFA) look at that tackle, it's a leg breaking tackle, a terrible tackle.
"How the referee doesn't give a red card, I don't know, it's two-footed, off the floor, a tackle that breaks legs."
Flamini apparently went into the Spurs dressing room after the game to apologise while Crouch joked that Gattuso obviously doesn't like losing.
Milan coach Massimiliano Allegri said Gattuso's behaviour was inexcusable.
"Flamini's was a very hard foul but there was also a foul against Gattuso's knee that was bad," he said.
"At the end of the game it was an unpleasant episode, there was a bit of nervousness, I don't know why it happened.
"I didn't like this episode, it's not nice to see, of course it will be looked at (by UEFA), there was certainly a reason that he behaved this way but you can't excuse it."
Although teams rarely lose in the Champions League knock-out stages after winning a first leg away from home, Redknapp insisted that they would not be counting their chickens just yet.
"There's a long way to go still, we've got to get through this round," he said.
"We're playing well, that's four good wins we've had in the last two weeks.
"We've had tough games but to come here tonight and get a clean sheet, (Michael) Dawson was terrific.
"I put Jonathan Woodgate on (for Corluka) and he'd had only one game against QPR but I felt his experience coming on, it wasn't a case of running into channels, it was a case of being in the right place at the right time.
"We still have to make sure we finish the job at Tottenham.
"We've done half the job, we're half the way through and there's another half to play at Tottenham.
"We know they are dangerous, they have dangerous forwards who can score goals. We have the advantage but it's half time."
Allegri denied his side are more focused on winning a first Serie A crown since 2004 and said they would play better in the second leg.
"We don't give a priority to any one of the three competitions we're in," he said.
"We're top of the league so maybe it seems more important but we want to get through to the next round and even if we lost we want to play the return with courage and calm because it will be different and we've got the chance to progress."