LONDON, March 20, 2011 (AFP) - Tottenham manager Harry Redknapp claims he is building a team capable of challenging for the Premier League title even though his side were held to a 0-0 draw by struggling West Ham.
Redknapp watched his side held by the Hammers at White Hart Lane on Saturday but despite the goalless draw, he remains pleased with the improvement of his club since he arrived three years ago.
He took over with Tottenham in the relegation zone but now they are still in with a chance of winning the Champions League and face Real Madrid in the quarter-finals.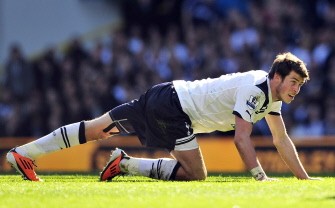 Tottenham Hotspur's Welsh player Gareth Bale stretches his leg during the match between Tottenham Hotspur and West Ham United. AFP
Redknapp is coy about their chances of beating the La Liga side, but he is confident his squad are developing to a group ready to make a run at the Premier League crown.
He said: "It was just one of those matches where we could not get the break in front of goal.
"We hit the woodwork and we moved the ball around the park fantastically. I could not have asked for any more.
"We played some great football and had so many good chances it was crazy.
"But we are building a team here and it is only going to get better. If we keep on improving then I think we can win the championship with Tottenham.
"I'm not putting a time scale on it. I'm just saying I think this team is capable of winning the championship. That is my ambition. If I achieve it, I don't know."
However, Redknapp says he is only focused on finishing the season strongly and is not putting pressure on himself to qualify for the Champions League next season after a result which dented their bid to overhaul fourth placed Chelsea.
He added: "I don't think about it. I don't think 'I must get into the Champions League because Tottenham are in it every year'.
"If we don't do it, then it is one of those things. I have tried my hardest."
Redknapp saw Tottenham hit the woodwork three times against West Ham, while England goalkeeper Robert Green made a number of key saves for the Hammers.
The 31-year-old's best stop came in the 86th minute when he tipped Gareth Bale's free-kick onto the bar. It was a sensational save while he also needed to be alert to substitute Roman Pavlyuchenko's late strikes.
Pavlyuchenko was brought on to replace Rafael van der Vaart, who went straight down the tunnel after being substituted.
Redknapp admits he was disappointed to see the Netherlands international not take his place on the bench to watch the remainder of the match and will be speaking to him about his behaviour.
He said: "I don't like that at all. If you are part of a team I think you should stay and watch the game. I will speak to him about it. He is a good lad, I just wanted to make a substitution."
The draw continues West Ham's recent upturn in results and manager Avram Grant hailed the achievement as the best defensive display during his tenure at the club.
He said: "It was our best away performance this season. The team defended like a team. In the last three games we have conceded one goal against Liverpool. We scored lots but we know to keep a clean-sheet."
Grant even felt his side were capable of snatching a win after Carlton Cole, Mark Noble and Demba Ba had late chances.
He added: "I think it was a good performance from the players, they showed a good spirit and it was a good result against a very good team.
"They are a good team especially at home. Tottenham are a big team but the big chances in the game were our chances."