The U-17 football teams of Viet Nam, Laos, Myanmar and Bangladesh, who have been qualified for the Asian U-17 Championship 2006 in Singapore next month, will compete in the Southeast Asian U-17 Tournament in Viet Nam this August.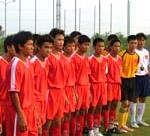 The U-17 Viet Nam squad in training for the Southeast Asian U-17 Tournament (Photo: Viet Nam Football Federation)
Bangladesh, approved by the ASEAN Football Federation (AFF) to take part in the regional tournament as an invited team, will play with the three regional squads at Thien Truong Stadium in Nam Dinh Province near Ha Noi from August 12 to 16.
AFF expects that the tournament would serve as a good warm-up for Viet Nam, Laos and Myanmar in the Asian Championship for the juniors.
As for Viet Nam, they will find it even a better chance because they will meet Bangladesh in the same group in the championship.
In the Southeast Asian tournament in Viet Nam, the two teams will play the opener on August 12, followed by the Laos vs. Myanmar match. The four squads will compete on a round-robin formation.
Schedule (Viet Nam time)
12 Aug. 3:30 pm Viet Nam vs. Bangladesh
6 pm Laos vs. Myanmar

14 Aug. 3:45 pm Bangladesh vs. Laos
6 pm Viet Nam vs. Myanmar

16 Aug. 3:45 pm Myanmar vs. Bangladesh
6 pm Viet Nam vs. Laos