Republic of Korea (RoK) dominated the 15th Viet Nam International Judo Tournament with eight gold, two silver and four bronze medals. Japan came second and host Viet Nam third.
Japan snatched five golds, one silver and two bronzes in the tournament at the Army Indoor Stadium in Ho Chi Minh City on Saturday and Sunday.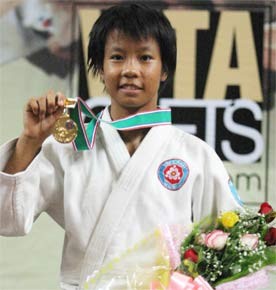 Viet Nam's Trinh Le Van Anh shows her gold medal of the 42 kg category. (Photo: SGGP)
Viet Nam, represented by the national squad and three other teams, obtained four golds, five silvers and 13 bronzes.
After Viet Nam were Thai judoists, who earned one gold, seven silvers and eight bronzes. Myanmar came fifth among the eleven participating countries and territories.
In the women's competition, Viet Nam's Trinh Le Van Anh became the champion of the 42-kg category after Myanmar's Moe Sandar Tun had to give up when the final had only 49 seconds left because of her foot injury.

Nguyen Thi Nhu Y, another Vietnamese woman, lost to RoK's Jo Eun Hwa in the 63-kg category's final, and Seo Ha Na, also of RoK, defeated Nguyen Thi Kieu of Viet Nam in the 57-kg category.
Negative news for the host was that no judoists of the national squad won a gold in the two-day tournament, attended by 99 men and 63 women from Chinese Taipei, Hong Kong, Indonesia, Japan, RoK, Laos, Myanmar, the Philippines, Sri Lanka, Thailand and Viet Nam.
Related article
Korea First, Viet Nam Second On Opening Day of Judo Tourney