Viet Nam beat Thailand 2-1 to claim the gold medal in the women's sepaktakraw team final in the Asian Games in Qatar on Wednesday. This is the first gold for the Vietnamese contingent in Qatar and also the first for Vietnamese sepaktakraw players in Asian Games history.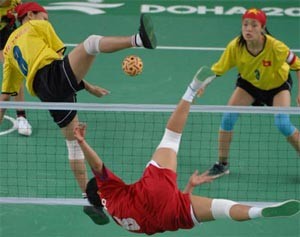 Viet Nam (in yellow) compete with Thailand in the final on Wednesday. (Photo: VietNamNet)
Thailand were deemed to be stronger before the final match. However, Viet Nam won the first set 2-1 but the Thais equalized 2-0 in the second set. The Vietnamese then beat their opponents 2-1 again in the final set.
China and the Republic of Korea shared the bronze medal in the event.
One day before, the Vietnamese women beat the Republic of Korea 3-0 in a semifinal and the Thais defeated China in the other semifinal.
 
Also on Tuesday, the Vietnamese male football team crushed Bangladesh 5-1 in their last Asian Games, ranking third after South Korea and Bahrain. With this victory, the Vietnamese team fulfilled their goal set for the Games.
On Wednesday, Viet Nam also earned a bronze in the men's team shooting. The Vietnamese contingent jumped to the 11th position with one gold, three silvers and three bronzes (updated at 8:30 pm, Viet Nam time).