PRETORIA, June 13, 2010 (AFP) - Serbia midfielder Zdravko Kuzmanovic pleaded for forgiveness after his senseless handball gifted Ghana victory in their opening World Cup Group D clash on Sunday.
Asamoah Gyan thrashed home the penalty awarded against Kuzmanovic to give the Black Stars a 1-0 success, the first by an African team in this World Cup.
Stuttgart's Kuzmanovic admitted the fault was all his.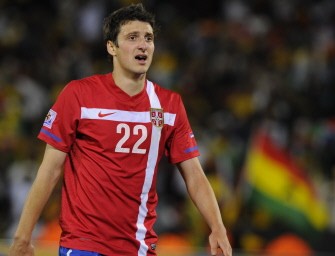 Zdravko Kuzmanovic looks dejected after Ghana won 1-0 on June 13, 2010
"I hope my teammates can forgive me," he said sadly. "I didn't speak with my friends, I just thought about it. I'm very sad.
"I made a mistake, it wasn't what I was trying to do, I tried to go for the ball with my head but it hit my hand. It's my mistake and all I can say to my team is: 'I'm sorry'.
"We deserved at least a point from a draw and because of my error, we have no points.
"We really needed to avoid that, in a World Cup every point counts. We lost and it's really hard for me."
Serbia also saw centre-back Aleksandar Lukovic dismissed for a second booking with just over a quarter of an hour left.
But Manchester United centre-back Nemanja Vidic cast doubt over the validity of his defensive partner's dismissal for a second bookable offence.
"I leave it to you (to say) if it was a red card or not, it was a bit strange," he said.
"After the red card, we had our chances, two great chances."
Straight after Lukovic's red card Milos Krasic fired straight at goalkeeper Richard Kingson.
Vidic then headed the resulting corner inches over before Chelsea full-back Branislav Ivanovic was also narrowly off target with a crisp drive.
But it took both teams until late in the game to start creating some recognisable scoring chances as the controversial official World Cup ball once again proved difficult to handle.
But Vidic refused to use that as an excuse.
"Many players say the ball is moving strangely, but it is not an excuse for (Kuzmanovic's) error," he said.
"Our problem is that we should have done better on some occasions, we should have used our experience better, our cleverness. We have to put our hopes in the next game, but this is against Germany."
Serbia coach Radomir Antic denied nerves had got to his team and also blamed the dismissal for the result.
"I wouldn't say we were scared, it's normal to feel great pressure at the beginning of the World Cup.
"I never felt we had any particular problems in this game. Lukovic's dismissal was harsh and that influenced the game.
"This was a game where there was a lot of respect between the teams and one mistake made the difference.
"Before that we had several opportunities to score and I think it was a very tight game that looked to be heading to a 0-0 draw and what made the difference was that they had more luck than us.
"I don't think Ghana had any real chances to score before the penalty."
Serbia captain Dejan Stankovic admitted that they must now win their next match against Germany.
"It hurts to lose this way," he said. "We need to regroup. It'll be tough against Germany who have a lot of quality but we have to win. We'll need to take more risks and concentrate harder."