Viet Nam's Dong Tam Long An will play China's Shangdong Luneng tomorrow at home in their Group G second-leg match of the AFC Champions League 2007.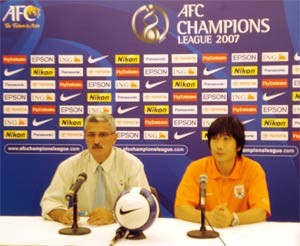 Henrique Calisto (left) and Ma Baogang at today's press conference (Photo: Hoang Uy)
Despite Shangdong Luneng having thrashed the Vietnamese champions 4-0 in their first-leg encounter, assistant coach Ma Baogang reckons tomorrow's game will not be an easy ride for the Chinese side.
"Every match is very important for us though my team are now at the top of Group G. We always put in a ten-out-of-ten performance in every game," he said at the pre-match press conference in Ho Chi Minh City today.
"Dong Tam Long An is a well-organized team. Besides, the hot weather here will also cause difficulties for us. So Shangdong will start with the strongest formation."
With six players certain to miss the match, Dong Tam Long An is looking at a tough time ahead. Coach Henrique Calisto worried that his team wouldn't even manage a draw but added that "my boys will give it their all tomorrow".