JOHANNESBURG, July 11, 2010 (AFP) - South Africa overcame years of skepticism about its ability to host the World Cup, pulling off the four-week tournament without major incident and showing off the nation's modern face.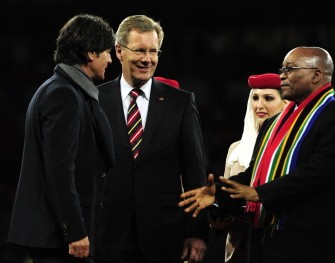 South Africa's President Jacob Zuma (R) congratulates German President Christian Wulff (C) and Germany's coach Joachim Loew after the 2010 World Cup third place match Uruguay vs Germany on July 10, 2010 at the Nelson Mandela Bay stadium in Port Elizabeth. AFP
Here's a look at how the tournament has gone:
SECURITY
Crime was one of the main concerns at the World Cup, in a nation with an average of 50 murders a day, which overwhelmingly affect the poorest South Africans. With 44,000 police devoted to the tournament, crime for fans has remained mostly minor.
Stadium stewards held wildcat strikes over the opening days, but police quickly moved in to ensure security.
The justice department says 223 suspects have appeared before special World Cup courts, with a 60 percent conviction rate.
Some journalists were robbed at gunpoint -- a crime which earned two men 15-year jail sentences. Another man last was slapped with two years for snatching a blanket and three beers from a 75-year-old German fan.
More infamously, two women were charged with ambush marketing for wearing orange dresses from a Dutch brewery to a game. That case was dropped.
American party girl Paris Hilton and her friend, former Playboy Playmate Jennifer Rovero, appeared for allegedly smoking a joint. Charges against Hilton were dropped, but Rovero had to pay a 1,000 rand (130 dollar, 100 euro) fine.
Private security firm ADT said it recorded a general drop in crime in Johannesburg suburbs of up to 70 percent in June.

TRANSPORT
South Africa's few hiccups usually involved transport, as hundreds of thousands of fans crisscrossed a country three times the size of Germany.
The worst blemish was airport delays in Durban that made about 700 fans late for Spain's semi-final win over Germany, with some missing the match entirely.
Aviation authorities blamed the problem on private jets for VIPs who refused to move to proper parking bays.
South Africa is still in the process of overhauling its public transport system, which many were initially reluctant to use in a country where the car is king.
But after early traffic jams around Johannesburg and Pretoria, which host three stadiums, more people heeded government messages urging fans to take trains or buses.

ATMOSPHERE
South Africans prided themselves on keeping their World Cup party going even though the national side was knocked out last week. Hundreds of thousands of people have watched on jumbo screens at public fan parks, despite the winter chill that has made this the coldest World Cup on record. Restaurants and bars, especially near the stadiums, have full houses most every night.
More than three million people saw games from the stands, making it the most-watched since the United States hosted in 1994.
That's in part because South Africa built enormous new stadiums for the tournament -- Soccer City is set up to hold about 85,000 fans during the World Cup -- larger than most of the venues in Germany for 2006.
Locals were sold tickets at dramatic discounts to make it affordable for South Africans to attend.