JOHANNESBURG, June 29, 2010 (AFP) - Amid the mountains of official World Cup kit on sale, frustrated South Africans are snapping up "FEEFA 2.010 WHIRLD CUP" T-shirts as they ridicule FIFA's strict enforcement of its marketing rules.
While giants images of Cristiano Ronaldo and Robinho clad in Nike sportswear dominate the Johannesburg skyline, FIFA's determination to stop smaller fish from associating themselves with the World Cup has rankled its hosts.
"South Africa is no longer ruled by the rule of law. South Africa at the moment is ruled by FIFA," said intellectual property rights lawyer Tim Burrell.
"They act very cowardly. They won't take on Nike because Nike is far more powerful financially that they are... They take on the small guys and go for them."
Burrell is defending a man who was placed in FIFA's crosshairs for making keychains depicting a football, a vuvuzela and 2010 -- without paying for the right to do so.
Others to land themselves in legal hot water include two Dutch women who were arrested for bringing into a stadium a group of women in orange mini-dresses, made by a brewery that was not an official sponsor.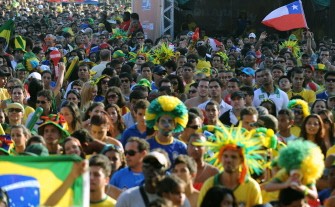 A Chilean flag is seen among Brazilian fans during the World football match between Brazil and Chile in Copacabana Beach, in Rio de Janeiro, Brazil on June 28. AFP
They were forced to surrender their passports and pay 1,300 dollars (1,000 euros) bail, but FIFA withdrew the charges after the Dutch foreign ministry called the case "absurd".
A restaurant in southern Port Elizabeth was forced to take down a picture of a football painted on its window while a bar in Pretoria was forced to remove a banner deemed too closely linked to the tournament even before it began.
Generally the country feels grateful to FIFA for choosing South Africa to host the World Cup and for standing up for the nation when sceptics worried that the tournament would never get off the ground.
But FIFA's rules still sometimes grate, as the global body vigorously defends the rights of its official sponsors who have spent one billion dollars for their links to the tournament.
FIFA, which owns exclusive rights to the phrases "2010 World Cup", "World Cup in South Africa", has enjoyed record revenue of 3.2 billion dollars this year.
Still, the organisation says it prefers compromise over litigation, and says it has been more lenient with small businesses.
"FIFA is not preventing small local businesses benefitting from the increased activity during the event period," it said in an email to AFP.
"On the opposite, FIFA is much more lenient with (small businesses), always embarking on an educational and non-aggressive approach."
Nike, however, has never been bothered even though its advertisements around the World Cup have been so successful that many viewers believe the company is an official sponsor, according to a study by Nielsen group.
Others bristle at the commercial restrictions around stadiums and fan parks where only licensed products are allowed, with a preference toward the official sponsors.
"Why should I be forced to pay 30 rands for one reddish American beer when the pub opposite the road sells local quarts for 12 rands?" said investigative journalist Adriaan Basson on his website thoughtleader.co.za.
"FIFA: time for a coup?" he asks.