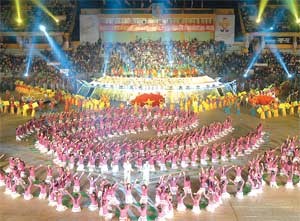 Opening ceremony of the 13th ASEAN University Games.
The 13th ASEAN University Games opened at Hang Day Stadium in Ha Noi yesterday with an extended ceremony of artistic and athletic performances and glittering laser displays involving thousands of athletes, dancers and artists.
Lasting until December 22, the event has lured over 1,400 athletes from nine Southeast Asian countries: Brunei, Cambodia, Indonesia, Laos, Malaysia, the Philippines, Singapore, Thailand and Viet Nam.
In all there are 157 events in a dozen sports and games: swimming, track and field, football, pencak silat, taekwondo, karatedo, tennis, chess, badminton, basketball, table tennis and volleyball.

The 248-strong Vietnamese squad is confident of coming third or better in the final medal tally.

It's the first time Viet Nam has hosted the biggest annual sports carnival for the region's tertiary students.
The country has already taken part in five ASEAN University Games and came fifth in the medal count at the last Games in Indonesia two years ago.
This year the slogan for the event is "ASEAN Students: Cooperation, Creativity and Success".
Results updated on December 17
Football: Men's Group A  SINGAPORE – THAILAND      0-2
                                        MALAYSIA – LAO                  3-2
                         Group B  BRUNEI – INDONESIA       playing
                                        VIET NAM – PHILIPPINES coming soon
Chess:
Men – Standard
ROUND 2

Bo.

Name

FED

Pts

Res.

Pts

Name

FED

1

TUAMSANG SAWAPOP

THA

1

 0-1

1

HOANG CANH HUAN

VIE

2

NGUYEN VAN HUY

VIE

½

 1-0

½

TAY SHI HAO

SIN

3

PHAM DUC THANG

VIE

0

1-0

0

BRAHMAWONG PAT CHARAWEE

THA
Women – Standard
ROUND 2

Bo.

Name

FED

Pts

Res.

Pts

Name

FED

1

HOANG THI BAO TRAM

VIE

1

½ - ½

1

EVI LINDIAWATI

INA

2

LE THANH TU

VIE

1

1-0 

1

PHAM LE THAO NGUYEN

VIE
Pencak Silat:
Class C (55-60 kg) Male
          Indonesia     Arsyad                        0 
          Viet Nam      Tuan Luu Trong         5
Class E (65-70 kg) Female
           Indonesia        Puspita                     0 
           Viet Nam        Anh Nguyen Phuong 5
Tennis:
Men's Doubles 
            Malaysia         Ruhil Razali - Zul Hassan  0
            Viet Nam         Chuong bao - Tang Chi    2
Women's Single Match 1
            Malaysia         Nor Zafirah Ahmad Taufek 0
            Viet Nam         Le Nguyen Thuy Trang      2
Women's Single Match 2
             Malaysia         Farah Syaza Rahman       0
             Viet Nam Nguyen Thuy Dan 2
Results updated on December 16
Football: Men's  Group A THAILAND – MALAYSIA    2-0
                                        LAO - SINGAPORE            5-1 
                          Group B VIET NAM – INDONESIA    3-0
                                        BRUNEI – PHILIPPINES     2-2
Chess:
Men – Standard
ROUND 1

Bo.

Name

FED

Pts

Res.

Pts

Name

FED

1

RICKY RISMANTO

INA

0

0 - 1

0

GOH WEIMING KEVIN

SIN

2

TIRTA CHANDRA PURNAMA

INA

0

1 - 0

0

BRAHMAWONG PAT CHARAWEE

THA

3

AU YOONG YOW LOO

MAS

0

½ - ½

0

NGUYEN VAN HUY

VIE

4

HOANG CANH HUAN

VIE

0

1 - 0

0

GERALD SOH HAN LOONG

MAS

5

SAELEE UAICHAI

THA

0

1 - 0

0

PHAM DUC THANG

VIE

6

YEE KENG YEW

SIN

0

1 - 0

0

SANDY KURNIAWAN

INA

7

TAY SHI HAO

SIN

0

½ - ½

0

MARCUS CHAN

MAS

 

TUAMSANG SAWAPOP

THA

0

1 - -

 

Bye

 
Women – Standard
ROUND 1

Bo.

Name

FED

Pts

Res.

Pts

Name

FED

1

HO THI MINH HIEN

SIN

0

0 - 1

1

HOANG THI BAO TRAM

VIE

2

PHAM LE THAO NGUYEN

VIE

0

1 - 0

0

KADEK IIN DWIJAYANTI

INA

3

LE PHAN KHANH NHI

SIN

0

0 - 1

0

LE THANH TU

VIE

4

EVI LINDIAWATI

INA

0

1 - 0

0

MOO YING XIN

SIN

5

TAWESUPMUN CHANIDA

THA

0

0 - 1

0

NORASA VERDIANA

INA