MADRID, July 20, 2010 (AFP) - Buoyed by their win in the World Cup this summer, Spain are set to push for co-hosting the 2018 tournament with neighbouring Portugal, Secretary of State for Sports Jaime Lissavetsky said Tuesday.
"Spain's next challenge is to organise the 2018 World Cup," Lissavetsky said in an address to the Spanish Football Federation's (RFEF) general assembly meeting.
Spain and Portugal hope to pool their resources - as Japan and South Korea did in 2002 - for 2018 after Brazil hosts the next edition in 2014.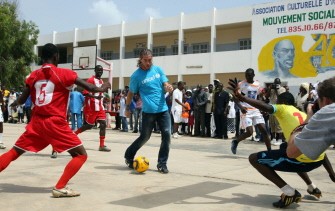 Spain's football Star and 2010 football world champion Sergion Ramos (C) plays football with local residents on July 18, 2010 in Dakar during a Unicef campaing to Senegal. AFP PHOTO
Belgium and the Netherlands are also preparing a joint 2018 bid and other candidates are England, the United States and Russia with Australia now concentrating its hopes on 2022 after initially expressing interest in 2018.
FIFA is to elect the winning bid on December 2 at a meeting of its executive committee.
RFEF chairman Angel Maria Villar said that "Spain and Portugal are in the race" for 2018, but admitted that it would likely prove difficult to see off the opposition - Spain hosted the event as recently as 1982. But he stressed that in the event of failure there would be a renewed bid for 2022.
FIFA's inspection commitee started Monday looking at the bidders' dossiers, starting off with Japan, a candidate for 2022.