PARIS, Sep 3 (AFP) – Conquerors of Europe and then the world, Spain will be seeking to complete an unprecedented treble when they embark upon their qualifying campaign for the 2012 European Championship in Poland and Ukraine.
Their World Cup triumph in South Africa enabled Vicente del Bosque's side to emulate West Germany (1974) and France (2000) as the only national teams to have held both European and world titles at the same time.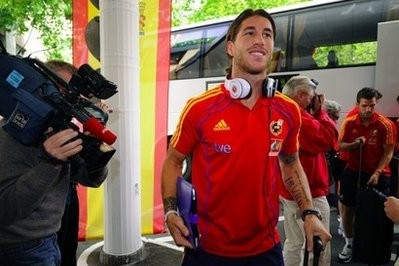 Spain's defender Sergio Ramos is seen arriving with his team at their hotel in Feldkirch, Austria, on September 2. AFP
The challenge now confronting La Roja is to carry that dominance into uncharted terrain by successfully defending the European crown they won in Austria and Switzerland in 2008.
Worryingly for Spain's adversaries, the average age of the World Cup-winning squad was a sprightly 25.9 and Villarreal midfielder Santi Cazorla was the only new face in the group named to face Liechtenstein in their first qualifying match on Friday.
"We cannot afford to under-estimate anyone. We are playing away from home and everyone wants to beat us," said del Bosque, whose side's other Group I opponents are the Czech Republic, Scotland and Lithuania.
"We must all work hard to defend our status, and be conscious that we represent a country that is now the world champion."
The irresistible quality of Spain's passing game in South Africa illuminated an occasionally turgid tournament, but one of the other teams to capture the popular imagination was Joachim Loew?s Germany.
Loew's young charges fell to Spain in the semi-finals, but not before thrilling fans around the world with their daring football, and Loew has demonstrated his faith in the project by extending his contract until 2012.
"I had to recharge for two or three days after the World Cup, but now a new phase begins," said Loew.
"We have a tough qualifying group for the championship in Poland and Ukraine, but the working conditions at the DFB (German Football Federation) are perfect, so we are looking forward to it.
"We have a lot of ideas on how to further develop this young team."
Germany face Turkey, Austria, Belgium, Kazakhstan and Azerbaijan in Group A and begin their qualifying campaign in Brussels.
While Loew has plenty of reasons to feel optimistic, the playing resources at his disposal -- including new Real Madrid recruits Sami Khedira and Mesut Oezil -- will attract envious glances from England, France and Italy.
All three countries arrived in South Africa with hopes of making a major impact, only for those hopes to turn to dust in embarrassingly abrupt fashion.
France and Italy, finalists in 2006, failed to even make it beyond the group phase and England were routed 4-1 by Germany in the last 16.
The experience was most harrowing for France, whose players attracted universal scorn for their infamous training boycott in protest at the exclusion of Nicolas Anelka for an outburst at coach Raymond Domenech.
The deeply unpopular Domenech has since given way to Laurent Blanc, whose unenviable brief is not only to guide France to Euro 2012 but to do so with a panache that wins over the country?s legions of disillusioned football followers.
"There's only one way to erase South Africa. It's results, winning spirit and victories," said Blanc in August.
Italy are also rebuilding, after finishing bottom of their World Cup group behind Paraguay, Slovakia and New Zealand, and former Fiorentina coach Cesare Prandelli is the man charged with the responsibility of restoring the Azzurri to former glories.
Prandelli's first game in charge was a 1-0 friendly loss to Ivory Coast in London but he declared himself enthused by the endeavours of debutant Mario Balotelli and recalled playmaker Antonio Cassano.
"Cassano played pretty well and for Balotelli it was his first game with the senior team, but I wanted him to be part of this squad and a couple of times he showed glimpses of his class," said Prandelli.
Unlike Domenech and Prandelli's predecessor, Marcello Lippi, Fabio Capello held onto his job despite overseeing England?s heaviest ever World Cup finals defeat at the hands of Germany.
England eked out a 2-1 win at home to Hungary in their first post-World Cup game and Capello lauded his players for the way they performed in front of an indifferent public.
"It was a game we had to play with pressure," said the Italian.
"People spoke about the fans booing and there was big pressure but the new players played with confidence."
England host Bulgaria in their first qualifying match, while beaten World Cup finalists the Netherlands will look to take out their frustrations on perennial whipping boys San Marino.
Concerns over Ukraine's infrastructure initially prompted doubts about their ability to co-host the tournament, but the events of the World Cup meant that restoring reputations and establishing legacies were already destined to be the pre-eminent themes of Euro 2012.