PRETORIA, June 24, 2010 (AFP) - Reigning European champions Spain will need a victory over Chile here on Friday to keep a much-fancied World Cup run on course with mighty Brazil or arch-rival Portugal likely waiting if they do advance.
The Spaniards must defeat Chile to seal a spot and to win the group must also hope Switzerland, which delivered a 1-0 shocker over Spain in their Group H opener, cannot overcome Spain's goal-difference edge after facing Honduras.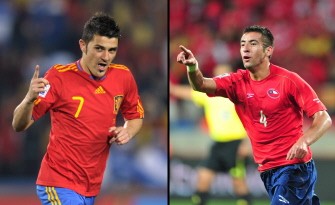 (FILES) -- A combination of two file images shows Spain's striker David Villa (L) and Chile's defender Mauricio Isla. AFP
"We still need to beat Chile," Spanish star David Villa said. "There's a long way to go before we can even think about being world champions, both in terms of time and matches."
The two Group H qualifiers are set to face knockout matches against the Group G survivors, Brazil and almost-certain Portugal.
Either figures to be a tough match, with a large Portuguese population in South Africa set to support their favorites and Brazil's playmakers alongside Spain as a choice of many to reach the World Cup final.
Argentina coach Diego Maradona summed up the consensus about Spain before the World Cup began, saying, "The way they started off, Spain was coming to pick up the World Cup and we were all playing for second place."
The Swiss loss derailed Spanish supremacy talk and not even a 2-0 victory over Honduras, new Barcelona signing Villa netting two goals, could change that. But a loss to Chile at Loftus Versfeld could send Spain home early.
"We have to prepare for a big pressure match against Chile," Spain coach Vicente Del Bosque said. "But these players are used to dealing with pressure. For them it's another match in a very busy season.
"We know Chile are a good side. They are active and quite aggressive, they get to the goal quickly and don't waste much energy."
Chile coach Marcelo Bielsa is taking nothing for granted despite six points from two matches, the first two Chilean victories at a World Cup since 1962.
"I don't want to think about what could happen on Friday and what we can achieve against Spain," Bielsa said. "I just hope these six points can act as the basis for our qualification - that's our immediate objective."
Chilean captain and goalkeeper Claudio Bravo and Chilean attackers Humberto Bravo and Fabian Orellana play in the Spanish league and four other Chileans previously spent time on Spanish clubs.
But knowing what's coming and stopping it are much different.
"Everyone deploys his own weapons and it is not a secret to anybody that ours consist of controlling the ball while at the same time stopping the Chileans from expressing themselves," Spanish midfielder Andres Iniesta said.
Del Bosque's side could have made things a bit easier had they been able to run up the score more on winless Honduras, but they were able only to ensure that a victory over Chile would advance them.
"We lacked the finishing touch just as we did against the Swiss," del Bosque said. "This was a more open team and a vulnerable side, we should have done better. We will suffer if we continue to play like that."
A loss to Chile and the suffering will last four long years.

KEY TO MATCH:
Spain's attack against Chile's defence
The Spanish need a victory or unlikely help from Honduras to secure a spot in the last 16. Chile can advance atop the group with a draw. That could set up Villa against a Chilean side yet to surrender a goal. The first round might have saved the best for last with this potential sizzler.