JOHANNESBURG, July 10, 2010 (AFP) - For a team known for their silky passing game and the pretty patterns they weave on a football pitch, Spain's progress to Sunday's World Cup final has been surprisingly businesslike and unspectacular.
Having conceded just two goals in their six games they can be proud of their defensive efforts but their return of seven goals is a little disappointing.
They have won their last three matches 1-0 and appear to be adding weight to the theory that it is the best defence rather than the most dazzling attack that always wins the World Cup.
For a team which arrived at the competition as European champions and having romped through qualifying with a 100 percent record, much was expected of the team that has now firmly put to bed it's unkind but long-standing prefix of perennial under-achievers.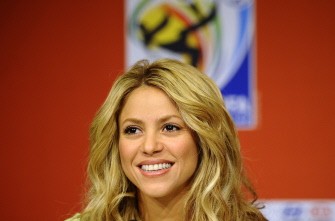 Colombian singer Shakira smiles during a press conference on July 10, 2010 at Soccer City Stadium on the eve of the 2010 World Cup final. AFP
And while they have dominated the ball against all their opponents, as was expected of them, they have not quite clicked and certainly not been spectacular.
In qualifying Vicente Del Bosque's team plundered 28 goals in their 10 matches and twice knocked in five, conceding a miserly five goals.
Over the last 18 months they had given footballing lessons in friendlies to the likes of England, Argentina and France while their last pre-World Cup friendly ended in a 6-0 demolition of Poland.
And yet when they arrived in South Africa they were brought down to earth with an immediate bump as Gelson Fernandes scored the only goal of the game in Durban to give Switzerland a shock victory.
At the time several of the big European teams were struggling and there was a real worry that Spain could go the way of France and Italy, who failed to even get out of the group stages.
Fortunately for Spain next up was minnows Honduras and a David Villa brace ensured their destiny was in their own hands.
But their final group game looked a tricky one as they faced a Chile side that knew a draw would ensure they topped the group and would hence probably avoid Brazil in the second round.
Spain had to win or they risked elimination and they were given a huge helping hand when Chile goalkeeper Claudio Bravo's mistake gave Villa an empty goal to loop an inch-perfect shot into from a difficult angle and more than 40 yards on 24 minutes.
Then Chile defender Marco Estrada got himself sent off for a somewhat harsh second booking on 37 minutes and when Andres Iniesta doubled the European champions' advantage before half-time they seemed to be cruising.
Chile's 10-men gave them a nervous few minutes by pulling a goal back in the second half but when the realisation dawned on both teams that without a dramatic late shift in the result between Switzerland and Honduras, they would both be going through, with Spain as group winners, the match descended into an exercise in Spanish keep-ball.
That put them in a second-round clash against their Iberian neighbours Portugal but Carlos Queiroz's team paid for their lack of attacking ambition as Spain dominated the second period and Villa, again, bagged the winner.
By this time, though, it had been noted that while Villa was scoring for fun, his strike partner Fernando Torres was yet to get off the mark.
Not only that but his form was generally poor and despite Del Bosque's assertions that he was happy with the Liverpool forward, the pressure was growing.
Villa was again the match-winner as Spain played probably their worst game of the tournament in the quarter-finals against stubborn Paraguay and against free-scoring Germany in the semi-finals Torres was finally ditched in favour of young Barcelona forward Pedro.
The move paid dividends since Spain repeated their 1-0 victory from the European Championship final against the Germans, although it was thanks to centre-back Carles Puyol's bullet header rather than Pedro's trickery.
But now with the title at stake against Holland, Del Bosque faces his toughest decision yet, whether or not to bring back the out-of-sorts Torres, bearing in mind that it was the Liverpool man who scored the winner in the Euro 2008 final after Villa had upstaged him throughout that tournament too.