LONDON, Feb 28, 2011 (AFP) - Birmingham striker Obafemi Martins insists he has never scored an easier goal than the last minute tap-in at Wembley that stunned Arsenal and gave his new club their first major trophy since 1963.
Martins has only been at Birmingham for one month and yet he is already guaranteed to be remembered as a Blues legend after the Nigerian punished a disastrous error by Arsenal goalkeeper Wojciech Szczesny to seal a shock 2-1 victory over the Gunners in Sunday's League Cup final.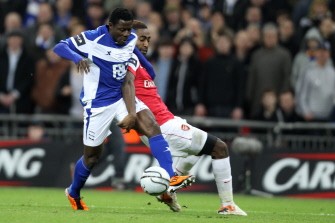 Obafemi Martins (L) fights for the ball with Arsenal's Swiss defender Johan Djourou during the Carling Cup Final football match at Wembley Stadium in London on February 25, 2011. AFP
When the former Newcastle star returned to the Premier League on loan from Rubin Kazan just before the close of the January transfer window, he couldn't have imagined such a dream start to life back in England.
Martins came on as a substitute late in Sunday's match, which looked destined for extra-time until Arsenal defender Laurent Koscielny's miscued attempt to clear startled Szczesny into fumbling the ball straight to the striker, who had the simple task of slotting into the empty net.
After celebrating with an extravagant back-flipping somersault, Martins almost scored again but his 90th minute strike was enough to secure Birmingham's first significant silverware since they last won this trophy nearly 50 years ago.
"I have scored a lot of important goals but since I was at Inter Milan this is the most important because it won a trophy," Martins said.
"I think this is the easiest goal I've ever scored in my career and it's very important.
"I'm glad I scored and I'm glad we won. I think it was my second touch.
"The gaffer (Alex McLeish) said to me that I would come on in the second half, so I think he did it right.
"It means a lot to the fans and players, we really need this trophy."
Martins admitted he was shocked to see the ball fall at his feet but his instinct for goals had brought him to the right place at the right time.
"The chance came and I took my time. Sometimes as a striker you just have to be there. You can never tell what might happen," he said.
"It is not easy playing Arsenal. The team did well to get to the final, I'm happy I scored for myself and my team-mates."
Martins had opened his goalscoring account for Birmingham in his previous appearance - an FA Cup victory over Sheffield Wednesday - and now he is looking forward to a return to Wembley in that competition.
Alex McLeish's side face Bolton in the quarter-finals on March 12 and Martins said: "We will see what happens in the FA Cup, there is chance of getting to the final, although I don't want to say we can win that one as well."
Martins' loan spell at Birmingham expires at the end of the season but it is hard to imagine the St Andrews' faithful will let McLeish allow him to leave after this.
"We will see what happens. I just want to be with the team and try to score goals," Martins added.