PARIS, June 5, 2011 (AFP) - Celebrations for Li Na's historic win for China at the French Open have been put on hold as she turns her focus on winning back-to back Grand Slam titles at Wimbledon next month.
The 29-year-old from Wuhan became the first player from China and the first from Asia to win a Grand Slam singles title when she defeated defending champion Francesca Schiavone 6-4, 7-6 (7/0) in the French Open final on Saturday.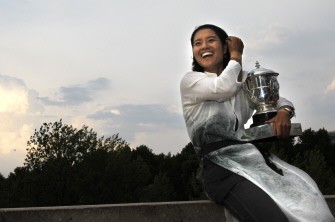 AFP - Li Na smiles as she holds the Roland Garros French Open tennis championship trophy in front of the Eiffel Tower on June 4, 2011 in Paris
But instead of heading home to soak up the adulation from her growing army of fans and followers, she will instead make the short journey over the English Channel to begin her grasscourt preparations for the year's third major.
"The biggest thing right now after the French in the next two weeks is Wimbledon, so I don't have time to go back to China right now," she said.
"So I go back after Wimbledon. If I don't do well in Wimbledon, maybe people forget me already. These are tough times, you know.
"I think right now the best thing for me is to enjoy it with my team and try and focus on Wimbledon."
Having already this year finished runner-up to Kim Clijsters at the Australian Open and won in Paris, Li can realistically expect to come close once again at Wimbledon.
She has played there four times previously and reached the quarter-finals on two occasions - in 2006 and last year when she lost a close match to eventual winner Serena Williams.
Asked to assess her prospects in London, she was nevertheless cautious.
"Change of surface. Right now, like Schiavone says, just enjoy it and take two or three days off. I will go to Eastbourne for the tournament."
Whatever happens, Li said that she hoped her watershed win will inspire a new generation of Chinese players to emerge and challenge the sport's traditional centres of power in Europe, Australia and the Americas.
She was particularly emotional when the Chinese flag was unfurled above the Roland Garros centre court for the first time and the Chinese national anthem was played in her honour.
"I think it was amazing, because I only know this before at the Asian Games or the Olympics.
"I got a text message from my friend. She said they were crying in China because they saw the national flag go up.
"I think if you are being Chinese, everyone was excited during this time."