MIAMI, March 29, 2011 (AFP) - Battling Kim Clijsters saved five match points to overhaul Serb Ana Ivanovic for a place in the quarter-finals of the ATP and WTA Miami Masters Tuesday 7-6 (7/4), 3-6, 7-6 (7/5).
Ivanovic, a former world number one and French Open champ, led 5-2 in the final set before second seed Clijsters began her fightback.
The Belgian rallied in championship style to earn her place in the last eight of the last hardcourt event prior to the start of the clay campaign. She also overcame more than 50 unforced errors.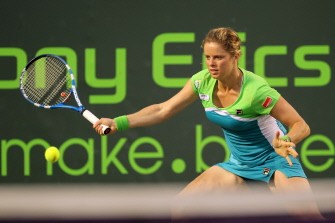 AFP - Kim Clijsters hits a forehand return against Ana Ivanovic of Serbia on March 29, 2011
The match had been delayed almost 24 hours after rain struck the event on Monday evening, a problem which returned on Tuesday with two hours of afternoon delays.
German hope Andrea Petkovic began fulfilling her promise with an upset of Serbian sixth seed Jelena Jankovic 2-6, 6-2, 6-4.
In men's play, 2009 US Open winner Juan Martin del Potro was at a loss for words after his fourth-round ouster at the hands of American Mardy Fish 7-5, 7-6 (7/5).
"It's difficult to say something now because I just lost a very, very tough match," said the Argentine whose comeback from 2010 wrist surgery was halted by the American who is on his way to taking over the top national ranking after the early exit here of Andy Roddick.
"Maybe in two or three days I can say my level at the moment and what I expect for the future."
The pair took almost two and a half hours to get through two sets, with Fish winning the first on his sixth set point. Fish, who suffered recently with a thyroid problem, was pleased with his success.
"It was pretty high quality tennis for the better part of it," said the 29-year-old. "I'm sure he came off thinking he played pretty well. And I played great."
The winner added that the end could not come soon enough. "I was very lucky, around 5-0 in the (second-set) tiebreaker I started feeling some (cramp) twinges, and then it just came.
"It's extremely humid. Certainly I'm used to these conditions growing up here, but I haven't played a match in these conditions in a while."
Spanish sixth seed David Ferrer beat compatriot Marcel Granollers 6-1, 6-2 and South African Kevin Anderson put out American John Isner 6-3, 7-6 (7/4). Number seven Tomas Berdych needed to win a battle to get past German Florian Mayer 6-3, 2-6, 7-6 (7/4).
There was third-round disappointment for Jo-Wilfried Tsonga as the French 15th seed was unable to recover in his rain-interrupted match from Monday.
Ukrainian Alexandr Dolgopolov finished off the final set to post a 6-7 (2/7), 6-4, 7-5 win and set up a date with top seed Rafael Nadal, still looking to earn his first Miami trophy after losing two finals.