Hosts Thailand under former England international Peter Reid defeated Vietnam 2-0 in the second game of Group B of the ASEAN Cup in Phuket Saturday.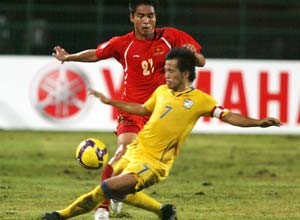 Thailand caption Thonglao (in yellow) tackles Vietnam striker Nguyen Viet Thang in their Saturday game (Photo: SGGP)
At the Surakul Stadium, Sutee Suksomkit fired for the hosts from a free kick in the 34th minute before Suchao Nutnum doubled the score in the 45th minute.

The Thais are playing the 2008 AFF Suzuki Cup under Reid, who has coaching experience at Coventry City, Manchester City and Sunderland in England.
Spurred by an almost full attendance, the Thais started the match confidently. They clearly won the midfield battle, pushing constant pressure on Vietnam to cause them to make mistakes. Among the mistakes, the one by Vietnamese midfielder Phan Van Tai Em in front of the penalty box was a good chance for the Thais, and Sutee did not miss it. He curled the ball over the Vietnam wall into the net.

Vietnam replaced three players in the second half but that did little to change the result as Thailand, a powerful team in the Southeast Asian region, played very safely.
In the earlier game of Group B also at the stadium, Malaysia beat Laos 3-0.
After the first two games in the group, hosts Thailand rank second after Malaysia due to goal difference.
The tournament kicked off Friday with two matches in group A in Indonesia's Jakarta. Defending champions Singapore crushed underdogs Cambodia 5-0 before hosts Indonesia defeated Myanmar 3-0.
In their game with Malaysia on Monday, Vietnam have to win if they do not want to go home early.