Thailand earned a 3-0 victory easily over Bahrain's Under-23 and host team Viet Nam defeated New Zealand's Under-23 with one goal in the first day of the Agribank Football Cup in Ha Noi on Wednesday. 
Only five minutes into the opener, Thailand's Ekaphan Inthasen, a striker from Vietnamese premier league club Nam Dinh, scored the first goal while Bahrain players were in a chaos situation.
The juniors from the Arabian Gulf could not do anything to compete with the Thais after they advanced. Even worse for them, the Thais were awarded a penalty in the 27th minute and striker Teerathep Winothai doubled the gap.
The Thais did not stop their attacks. Playmaker Thonglao, who will join Viet Nam's league next year, curled the ball over the Bahrain wall from a direct kick outside the box into the net a few minutes before the break.
Given three goals, Thailand played lower and slower in the second half but their opponents failed to really threaten them.
After the opener, Viet Nam started the later match also at My Dinh National Stadium with attacks immediately and striker Le Anh Duc missed the first chance just four minutes into the game. The all-red-jersey home side deployed attacks along two flanks before making low crossed into the box to challenge their opponents.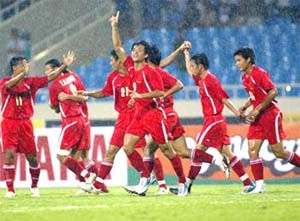 Cong Vinh (C) celebrates his goal (Photo: VietnamNet)
However, an attack right in the middle in the 14th minute placed striker Le Cong Vinh opposite to New Zealand keeper Mark Paston, and the forward scored.
The red players kept their aggressive tactics and in fact the New Zealand goalie worked very hard all the time. Cong Vinh missed a very good chance – his shot from about seven meters was over the bar a few minutes before the break.
Viet Nam continued threatening but an excellent Paston made many brilliant saves, while coach Alfred Riedl's players missed various chances again.
Thailand took the lead of the round-robin tournament thanks to more goals than Viet Nam.
The tournament's next matches on Friday are New Zealand vs. Thailand, and Vietnam vs. Bahrain.
Related article
All 4 Teams Want to Win Agribank Cup in Ha Noi