Yesterday, the national volleyball championship – the 2nd Hung Vuong Cup officially opened in Vinh Phuc and Phu Tho. "Sao Vang Military" will be playing against " Vinh Phuc Police" in the Men's opening match, televised live by VTV3 at 14:20.
The championship this year sees the participation of leading players in Vietnamese volleyball, like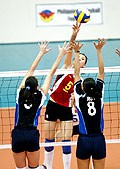 an acting scence in Women's event
"Military Information", "Industrial& Commercial Bank", " Binh Dien Long An" teams in Women's event and " The Cong," " Hanoi Post Office" and "Tra Vinh" in Men's event.
Also this year, the national championship will see special appearance of foreign players alongside with local players in the national championship. This really promises exciting matches to volleyball fans nationwide.
In the women's event, the competition for the champion title will be foreseen tougher and hotter than in previous seasons. It will be much more difficult for "Military Information" to defend their crown in a new context, in which their strong opponents have already strengthened themselves with foreign players to win the highest title.
"Industrial & Commercial Bank" has recently come up as a strong team, especially after the Sport Newspaper Cup. Thai player Pacharee has been playing successfully in the team, bringing more hope to "Industrial & Commercial Bank" this year.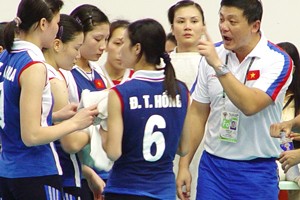 Vietnamese Volleyball under the guide of a Chinese expert.
Together with "Industrial & Commercial Bank", other teams also put the hope to their newly employed force of local and foreign players for the champion title.

In the Men's event, "The Cong" continues to be the king. It will be hard to be defeated with players of high level and abundant experience like Minh Tuan, Duy Quang, Minh Dung.
Hanoi Post Office and Ninh Binh will create no sudden surprise due to their irregular performance despite their thorough preparation in advance for the championship.