AMSTERDAM, Netherlands, June 5, 2010 (AFP) - Arjen Robben is a doubt for the World Cup after injuring his left thigh in the Netherlands' 6-1 friendly win over Hungary on Saturday, Dutch coach Bert van Marwijk said.
"Arjen will not take the plane (to Johannesburg) with the team on Saturday night. It makes no sense for him to take the plane now," said van Marwijk, who revealed that Robben would undergo tests at a Dutch hospital.
"I'd rather have lost the match than lost Robben," added the Dutch manager, who said his star winger had sustained "a tear to the left thigh".
Captain Giovanni van Bronckhorst said: "It was a magnificent match but Arjen's injury overshadowed everything. I'm not very optimistic. He's in real pain and finds it difficult to walk."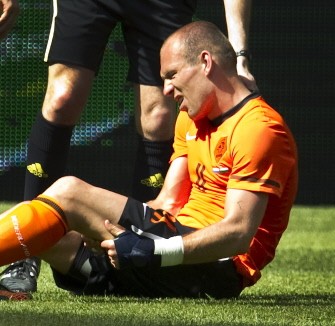 Arjen Robben holds his thigh after injuring himself during a friendly international football match against Hungary on June 5, 2010. AFP photo
Striker Robin van Persie, who opened the scoring in the 22nd minute, echoed his skipper's concerns.
"Arjen's injury really plunged us into sadness. The atmosphere was grim in the changing room," said the Arsenal forward.
"Arjen is a really important player for the team. He's essential to our play. We hope it's not too serious."
Robben hurt himself while attempting a backheel just three minutes from the end of the match and had to limp off.
The Bayern Munich winger had missed the Netherlands' two previous warm-up matches, against Mexico and Ghana, due to a hip problem.
He came on as a second-half substitute against Hungary and, playing in his preferred right-wing role, turned in a superb 40-minute showing in which he scored in the 64th and 78th minutes.
The Netherlands, finalists in 1974 and 1978, begin their World Cup campaign against Denmark -- who lost 1-0 to South Africa in a friendly on Saturday -- on June 14 before tackling Japan on June 19 and Cameroon on June 24.
"I have the possibility of replacing Arjen up to 24 hours before the match against Denmark," said van Marwijk.
"But I hope it doesn't have to be the case. Some treatments allow you to recover very quickly from this kind of injury."