The 40th annual Hanoi Moi (New Hanoi) newspaper Run for Peace took place at the capital's Hoan Kiem Lake on October 6.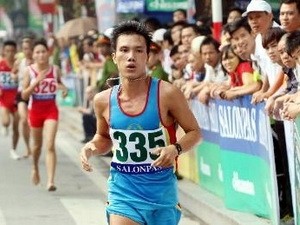 Do Quoc Luat of the Border Guard team topped the men's open category (Source: VNA)
The event's opening ceremony was attended by representatives from the Vietnam Olympic Committee, Hanoi Union of Friendship Organisations, Hanoi People's Committee and representatives from the embassies of India, Laos, Cambodia, the Philippines, China, Thailand and Singapore.
More than 1,200 runners, including those from 29 embassies and international organisations in Hanoi, took part in the competition. The remainder came from 29 districts and townships across the capital, students from colleges and vocational schools and local athletic teams.
Do Quoc Luat of the Border Guard team topped the men's open category while Pham Thi Hue from northern Quang Ninh province clinched gold in the women's open category.
In the foreigners' events, Canadian teacher Hugo Page won the first prize in the men's pool. The gold medal for the women's run was presented to Mongolian student Tsogtbaotar Myaymarkhorol.
Vice Chairwoman of the Hanoi People's Committee Nguyen Thi Bich Ngoc stated that the run is one of several major activities celebrating the 59th anniversary of Hanoi Liberation Day (October 10), the 14th anniversary of Hanoi's recognition as a UNESCO City for Peace and the 56th anniversary of the New Hanoi newspaper.