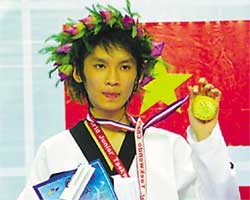 Hoang Ha Giang
Though having participated in many other World Taekwondo Champs, the Vietnamese Taekwondo team took part in the World Youth Championship for the first time in 2002.
Two years later, Pham Hoai Thu took home the first gold medal at the 5th World Youth Championship in 2004.
Thanks to great efforts in preparation during the past years, on the first competition day of the 6th - 2006 World Youth Championship in Ho Chi Minh City, Viet Nam achieved great success with the shining glory of two female fighters, Tran Thi Ngoc Truc and Hoang Ha Giang.
Ngoc Truc, residing in Binh Thanh District, has practiced Taekwondo for seven years since she was ten with two coaches Tran Phuc Hau and Phan Dang Thiem. In 2002, Ngoc Truc was chosen for the Ho Chi Minh City's Youth Team.
At the 2004 South East Asia Youth Champion ship, Ngoc Truc won her first bronze medal. The following year, she finished in third place of the national championship.
Before entering the 6th tournament, Truc targeted to win the bronze medal because "there are so many tough opponents".
But she did more better than expected when making accurate counter-attack kicks to win her rivals from Poland, Germany, France, Canada, Croatia in turn before defeating Parpaporn Sangarin (Thailand) in the women's 49kg final.
With this victory, Cuc has become the first fighter ever Vietnamese to win a gold medal in the World Youth Championship.
Hoang Ha Giang was another Vietnamese female fighter to challenge the championship trophy on the opening day. The 1.68m-high girl is just 15 years old, and is the only child of a normal family in district 4.
Starting her Taekwondo practice in 2000 with Ms. Quach Phuong, Giang has made rapid progress and drawn great attention from the Coaching Board of the Ho Chi Minh City's Youth Team.
Giang proved her value by becoming the silver and gold medalist in the Open Viet Nam L.G and national champs (in the 43kg category) respectively.
Ha Giang thought she should defeat her rival in each bout to get to the highest post and she did it. Though her rival in the 46kg final round is the most powerful Choi So Yeon (Korea), Giang kept her nerve to the challenge.
After several minutes pulling around, she made a sudden sidekick at Choi in the 3rd round, scoring the only winning point of the match and bringing Giang to the trophy.