U19 Vietnam beat U19 Arsenal 3-0 in the first football match in Europe.
U19 Vietnam led the game by 2-0 with goals by striker Cong Phuong in the 10th and 20th minute during the first half of the game. Xuan Truong scored the third goal in the 85th minute of the second half.
The U19 Arsenal is considered a formidable opponent with outstanding players such as Chuba Akpon and Serge Gnabry.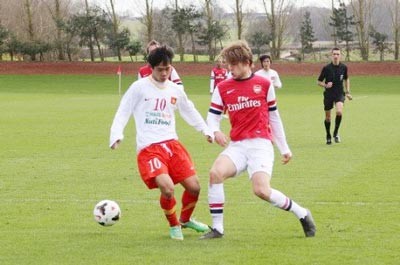 Football match between U19 Vietnam and Arsenal (Photo:SGGP)
List of football players of U19 Vietnam and U19 Arsenal:
U19 Vietnam : Van Trong, Van Son, Dong Trieu, Van Thiet, Xuan Truong, Hong Duy, Tuan Anh, Van Toan, Cong Phuong, Duc Huy( Ti Phong), Thanh Hau

U19 Arsenal: Iliev, Bellerin, Ormonde-Ottewill, Kamara, Siemann, Pleguezuelo, Maitland-Niles, Zelalem, Akpom, Gnabry, Toral.