MARSEILLE, France, Feb 24, 2011 (AFP) - Despite overall satisfaction with the 0-0 draw against Manchester United in the first leg of their Champions League tie, Marseille's Mathieu Valbuena believes the need for caution remains.
The French champions emerged from Wednesday's forgettable stalemate in a strong position to reach the quarter-finals after preventing United from leaving Stade Velodrome with a potentially decisive away goal.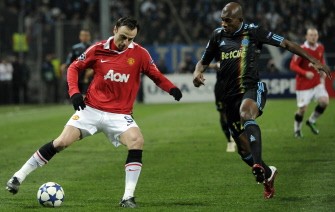 Olympique Marseille's midfielder Charles Kabore (R) vies with Manchester United's striker Dimitar Berbatov during their match on February 23, 2011 in Marseille. AFP
Marseille's players and staff had admitted in the build-up to the game that 0-0 would be an acceptable result but Valbuena said it was no time for back-slapping.
"When you get a 0-0 at home, it's never a good operation, but it's not a bad one either," said the France international schemer.
"It was a locked match without lots of chances. Defensively we held the fort, and so did they, so the result is satisfying.
"Everything will be decided in the return leg, even though Old Trafford is a fortress."
Marseille became the first side to prevent United from scoring away from home in the Champions League since Inter Milan did so in the round of 16 in the 2008-09 tournament.
United went on to prevail on that occasion by winning the return leg 2-0 at Old Trafford and Valbuena knows that Marseille will have to produce a performance of the very highest level to avoid the fate that befell Inter.
"They do not panic and they give off an air of great power," said Valbuena.
"They're programmed to win the Champions League and have lots of talents. We'll have to try everything to make sure we have no regrets and play without any fear."
Valbuena had not been expected to feature for Marseille on Wednesday, after more than a month out with a knee injury, but he made an entrance as a 79th-minute substitute for France colleague Loic Remy.
It gave him little time to influence proceedings and he admitted he would need a spell of re-adjustment to return to top form.
"I'm pleased to have come back but I'm a long way from being 100 percent," he said.
Marseille midfielder Benoit Cheyrou, who came on for Edouard Cisse earlier in the second half, said Marseille would need to be just as watchful defensively in the return leg, despite the imperative to score.
"We showed that we could go head-to-head with this team," he said.
"It (the second leg) will be decided by the details. They are very difficult to play against at Old Trafford, but we showed that we could raise the level of our game."