CAPE TOWN, July 5, 2010 (AFP) - Dutch coach Bert van Marwijk is working hard to ensure his players have the right frame of mind for a World Cup semi-final, believing it could be the difference between winning or losing.
For most of the Netherlands team, Tuesday's last four clash with Uruguay in Cape Town will be the biggest match of their careers with a final looming against either Germany or Spain.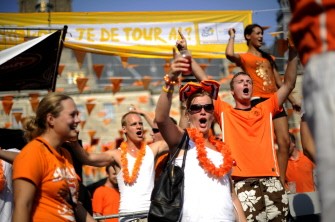 Dutch fans celebrate at the end of the quarter-final match Netherlands vs Brazil on July 2, 2010 in center Rotterdam on the North Sea. AFP
Playing on such a high-profile global stage can be nerve-wracking, but Van Marwijk is confident they can handle the pressure.
"I've a lot of faith in my players and in everything - our whole organisation and the way we work," he told Fifa.com.
"But in the end it's also the mindset at a particular moment that decides whether you win a match or not."
The Dutch are unquestionably a team riding high on confidence, winning all eight of their qualifiers before coming through five games in South Africa unbeaten.
Part of their success has to go to the coach, who has been in charge since 2008 after being recruited to replace Marco van Basten.
Van Marwijk, who won a solitary cap as a player for the national team, steered Feyenoord to the UEFA Cup in 2002 but has otherwise had an unremarkable career.
Nevertheless, his management style has clearly paid dividends, with the Dutch still contention while bigger teams like England, France, Brazil and Argentina are long gone.
He said he has managed to find a middle ground of making clear that he was in charge, while also being a friend to his players.
"I'm very clear to the players. They should be able to call you at night and I'll be there for them, but I like to show some very clear boundaries," he said in explaining his style.
"I think it's important that you're in the middle of the group at the right moments, but also take a distance from them at the right times.
"It's important that you can influence but that you don't get influenced.
"These are some of the most important characteristics for a coach. Everyone does it in his own way and me as well. Everything I say is my truth, not the one and only truth."
The Dutch last reached the World Cup final 32 years ago when they lost to Argentina. Their only other appearance was in 1974 and they were beaten by West Germany.
Lifting the trophy for the first time in their history has been the team's clear target since arriving in South Africa but Van Marwijk is keen to stress that now is not the time to start dreaming.
"We have witnessed it before in the past. Think about two years ago in Austria and Switzerland," he said, referring to the 2008 European championships.
"We beat Italy and France and everybody already thought we would become European champions but we didn't even survive the quarter-finals because we thought that we were already there.
"That's what I've tried to make clear, that this has to be different.
"Until now, the players have shown that they've picked that up very well but this will be another important test."