Viet Nam's shooting exceeded its own 5-Gold target in the 24th Southeast Asia Games (24th SEA Games) being held in Thailand with a surprising total result of seven gold medals. Yesterday was definitely its golden day.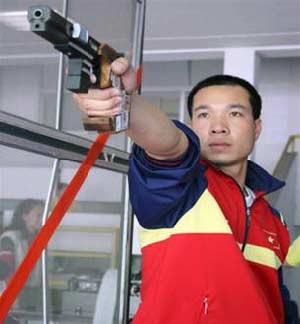 Hoang Xuan Vinh


After the first success of Hoang Xuan Vinh in the Men's Individual 25m Center Fire Pistol, he and two other Vietnamese shooters, Nguyen Manh Tuong and Pham Cao Son achieved success with total result of 1,735 points, taking the lead in the Men's Team 25m Center Fire Pistol yesterday morning.
Three hours later, the Vietnamese three man team of Nguyen Duy Hoang, Nguyen Tan Nam and Vu Thanh Hung pocketed one more gold medal in their Men's Team Rifle 3 Position. Their final score of 3,432 points was 15 points higher than the team that won the silver medal, Thailand and 113 points higher than the bronze team, Malaysia.
Nguyen Duy Hoang received the honor to collect a gold medal in the Men's Individual Rifle 3 Position after his score of 1,252.2 was an unbreakable record in that category.
Yesterday's four gold medals were a big success for Vietnamese shooting and Viet Nam in general. In addition, four new bronze medals were added to Viet Nam's tally due to Nguyen Manh Tuong in Men's Individual 25m Center Fire Pistol; Tham Thuy Hong in Women's Individual 10m Air Rifle; Nguyen Tan Nam in Men's Individual Rifle 3 Position and the Vietnamese Women's Team 10m Air Rifle.
Currently, the ranking board of the 24th Asia Games still sees that top three positions maintained by Thailand, Singapore and Viet Nam. With the addition of four gold medals and four bronze medals yesterday, Viet Nam's tally has been increased to 21 medals in total.