Viet Nam's President Tran Duc Luong has sent a complimentary letter to the National Sports and Physical Training Committee on the occasion of the Vietnamese Sports Day's 60th anniversary – March 27.
Mr. Luong praised the Committee on its achievements in the past years and expressed his hopes for further nationwide development of sports activities.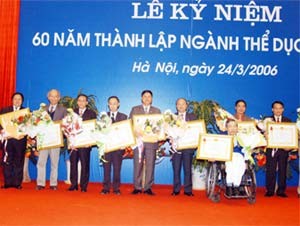 Activists with significant contributions to sports are honored at the meeting.
The Sports Committee celebrated its 60th anniversary in Ha Noi on March 24 with the presence of Deputy Prime Minister Pham Gia Khiem. Addressing the meeting, Mr. Khiem called on the committee to work out effective measures for future development.
Mr. Nguyen Trong Hy, Vice Chairman of the committee, said that with great efforts over the past 60 years, Vietnamese athletes have performed excellently in many regional and international competitions, bringing Vietnam to higher ranks year over year.
At the meeting, Viet Nam Olympic Committee Secretary General Hoang Vinh Giang was presented with the State's Labor Hero Order for his contributions to national sports.
Besides, ten Vietnamese athletes and five coaches of 2005 were honored at another ceremony in Ha Noi on the occasion of the Vietnamese Sports Day. Awards also went for five outstanding disabled athletes and their three coaches.
The outstanding athletes and coaches were selected by nearly 200 sports journalists throughout the country in a vote held in late 2005.
Last December, Vietnamese athletes won 71 gold medals, 68 silvers and 89 bronzes at the 23rd SEA Games in the Philippines, securing the third place in the medal tally. At the 3rd ASEAN Para Games for the disabled, Viet Nam won 83 golds, 43 silvers and 26 bronzes.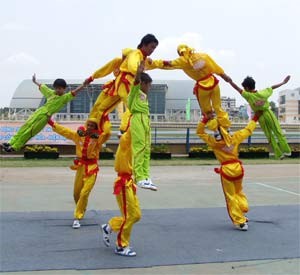 A sport dance troupe celebrates Sports Day in Ho Chi Minh City (Photo: Tuong Thuy)
On March 25, 2006 in Ho Chi Minh City, more than 10,000 people took a walk through District 1 to celebrate the Sports Day. City Vice Chairman Nguyen Thanh Tai joined the two-km walk, held by the Sports Department and the Department of Education and Training.