After a 3-1 victory over Malaysia, Viet Nam was expected to beat Singapore on Monday, but they were defeated by their own weaknesses.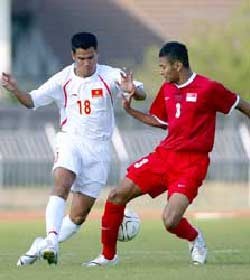 Vietnamese "golden boy" Cong Vinh (L)tries to block the attack of Ismal

Vietnamese sport commentators are saying at least two the nation's losses of in the match against Singapore were "suicidal".

The first suicide was caused by a loss of co-operation in the Vietnamese formation.
Defending against Singapore in the sixth minute, center forward Quang Thanh decided to jump and divert a pass from Singaporean Isa Halim into the hands of goalkeeper Duc Cuong. But Cuong made the mistake of moving to the edge of his penalty area, making it impossible to reverse in time to catch kick.

The team cut its own throat again in the 23rd minute when midfielder Long Giang was careless in defending against Singapore's Farzul, slipping and kicking the ball back to make it a two-nill loss for Viet Nam.

Fans hopes were raised again when Singapore's Isa Badu was sent-off in the 31st minute. But only fourteen minutes later, Viet Nam saw its loss widen to three points after Singapore's Sharil fired a strong shot past goalkeeper Cuong.

Early in the second half, Viet Nam's Austrian coach Alfred Ridle promptly switch the teams 4-4-2 formation to 3-4-3. It seemed to work better.

A cheerful moment came in the 53rd minute when striker Vu Phong delivered a long pass outside the penalty area to beat Hassan.

During the last minutes of the game, a penalty shootout in the 90th minute was given to Viet Nam. Cong Vinh did not disappoint his fans. Viet Nam closed the score. But time ran out and Viet Nam suffered a 2-3 loss.

Singapore now takes the lead in Group B with four points while Viet Nam and Malaysia have three points each. Laos gains one point and stands last. Viet Nam will meet Laos on December 8 under pressure to win a ticket to the semifinals.

Related articles:
Viet Nam Awaits Another Victory over Singapore
Viet Nam Gains a 3-1 Victory over Malaysia