Viet Nam remains among the top three medal winners of the 24th SEA Games being held in Thailand as more medals keep falling into its pocket. Its Gymnastics' Team contributed hugely.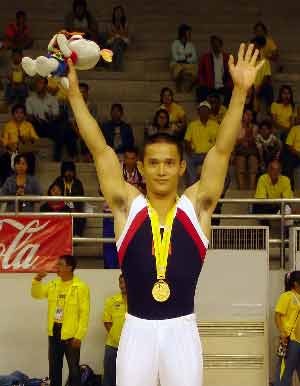 Artistic Gymnastics athlete Nguyen Minh Tuan is joyful with his new gold medal
Viet Nam's Artistic Gymnastics' team won five gold medals yesterday: Nguyen Minh Tuan in Men's Rings, Nguyen Ha Thanh in Men's Parallel Bars, Pham Phuoc Hung in the Men's Horizontal Bar, Phan Thi Ha Thanh in Women's Vault and Do Thi Ngan Thuong in Women's Beam. 
Two silver medals were also won by Hoang Cuong in Men's Floor and Pham Quoc Hung in Men's Parallel Bars.  
In fencing, Viet Nam took a gold in Women's Team Sabre. 
In wushu, Nguyen Thi Bich won the Women's Under 48kg, Nguyen Thuy Ngan took the Women's Under 52kg, Phan Anh Yen the Men's Under 56kg and Nguyen Van Tuan the Men's Under 65kg. 
Tran Duc Tong won silver in Men's Changquan, Three Events Combined, and Pham Quoc Khanh took the Men's Nanquan silver. Another silver medal was won in Women's Duilian. 
One disappointment came from weightlifter Khuat Minh Hai when she lost her gold medal to Thai opponent Petanang Khanittha in Women's 69kg in a narrow 111-112 loss. 
In table tennis. Nguyen Thanh Hai lost all five sets against World 6th seed Singaporean Gao Ning to end with a silver in Men's Singles. 
To date, the top three nations at the 24th SEA Games remain Thailand, Viet Nam and Singapore. Singapore has 80 medals, Viet Nam 109, and Thailand 213. 
Related articles:

Viet Nam Grabs More SEA Games Gold
More SEA Games Gold For Viet Nam
Viet Nam Jumps Up, Singapore Falls Down
Hopes for SEA Games Glory Return to Viet Nam
Viet Nam Breaks Its Own 5-Gold Target