The Viet Nam 1 (SHB Da Nang) defeated Malaysia 4-0 in the final match Wednesday on the Chi Lang Ground of Da Nang city.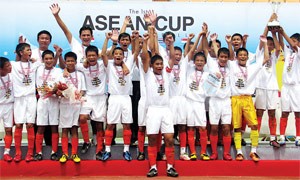 The Viet Nam 1 recieves the first prize of the U13 Asean Yamaha Cup 2008
From the beginning of the match, the host team put pressure on their opponent and Thanh Quoc scored for Viet Nam 1 in the 18th minute.  The score was doubled for the Viet Nam 1 only three minutes later thanks to the co-operation between Xuan Linh and Nguyen Viet Nguyen.  
Viet Nam 1 scored two points in the second half and won the match 4-0 thanks to a goal by Viet Nguyen at the 42nd minute and Thien Chi at the 60th minute. 
Thanks to this victory, Viet Nam 1 will be honored on the highest stage in the closing ceremony with the title "champion" and be rewarded US$10,000.  
Moreover, the major sponsor, the Yamaha Corporation will support the 2008 champion financially during their friendly matches in the foreign countries. 
Malaysia, the runner up, will receive US$5,000. 
The third place belongs to the Thailand as they defeated the Viet Nam 2 (Phu Yen) 3-1. Even though the Phu Yen players opened the scores at the 8th minute, but immediately the Thailand evened the score and later triumphed over Phu Yen to win 3-1.  
Therefore, a reward of US$3,000 went to Thailand.  
Da Nang's player Nguyen Viet Nguyen received the title "Outstanding football player" while Thailand Chenrop Samphaodi received the title "Best Goal Scorer" thanks to his four goals in the tournament. 
The ASEAN U13 Yamaha Football Cup 2008 opened in central Da Nang city over August 4-6 with six teams participating from Indonesia, Malaysia, Singapore, Thailand and Viet Nam. 
The three-day tournament, held in Viet Nam for the first time, was jointly organized by VFF, the Ho Chi Minh Communist Youth Union Central Committee, Japan's Yamaha Motor Corporation and the Da Nang Department of Culture, Sports and Tourism.