Viet Nam gained more gold medals today, helping retain its second position on the overall 24th SEA Games' ranking whereas Singapore has lost its third place to Malaysia at the largest regional sport tournament being held in Thailand.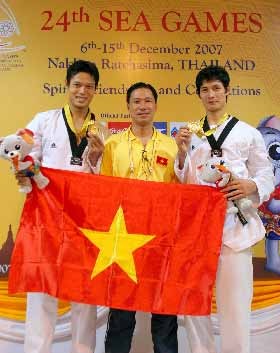 Viet Nam's Taekwondo Coach Nguyen Dang Khanh with two "golden men" Nguyen Van Hung and Nguyen Trong Cuong

The Vietnamese Karate team snatched two gold medals yesterday and two early today. The latter two went to Nguyen Ngoc Thanh in Men's Under 60kg category and Vu Thi Nguyet Anh in Women's Under 60kg.
Another six silvers and five bronzes were also added to this new collection.
In Archery, the Vietnamese men reached their highest record in Men's Compound Men's Team, bringing their first gold.
In Canoe Flat, though starting with a silver in K2 1000m Men, the Vietnamese athlete soon recovered their strength and took the lead in C2 1000m Men.
Yesterday, Judo, Pencak Silat and Taekwondo won a total 7 golds.
While two Vietnamese female Judoists Tran Thi Bich Tram and Nguyen Thi Kieu knocked out their opponents and pocketed their own gold medals in Women -58kg Half-Light and Women -57kg Light, two male Taekwondoists Nguyen Trong Cuong and Nguyen Van Hung advanced easily onto the highest honor in Men's Under 84kg and Men's Over 84kg.
The three remaining golds came from Pencak Silat's Tran Van Toan in Men's Under 55kg, Thi Thu Hong in Women's Under 55kg and Tran Thi Hong Ngoan in Women's Over 65kg.
To date, the top three spots in the overall Games tally has seen Malaysia replacing Singapore to sit in the third place while the latter has been pushed back to the sixth position.
Thailand and Viet Nam still stand their ground, ranked first and second respectively with 351 and 181 medals while Malaysia has so far grabbed 174.