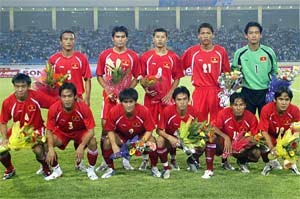 The Viet Nam squad (Photo: SGGP)
Both Thailand and Viet Nam earned another victory in the Agribank Football Cup in Ha Noi on Friday, and will play each other on Sunday to win the trophy.
The hosts defeated Bahrain's Under-23 team 2-0 in a game with many chances missed by the home side. In addition, the Bahrain keeper made many brilliant saves at My Dinh National Stadium.
Viet Nam striker Nguyen Anh Duc, who missed many chances on Wednesday in the home side's 1-0 victory over New Zealand's Under-23 team, pushed his squad ahead 15 minutes into Friday's match. Viet Nam captain Minh Phuong started an attack on the left and made a low cross to Duc, who scored by touching the ball right before a defender.
Viet Nam No.1 striker Le Cong Vinh made a wide shot in the box a few minutes before the break after he got the ball, not challenged the other side at all.
The hosts played aggressively all the time as they really wanted more goals, making the game interesting, and their efforts paid off. Captain Minh Phuong doubled the score in the middle of the second half with a header.
In the earlier match, Thailand beat the New Zealand side 1-0, the same as the score that Viet Nam defeated the kiwis on Wednesday.
In the final match day on Sunday, Bahrain will play New Zealand and the hosts will confront Thailand. Both Viet Nam and Thailand have six points but the Thais hold more advantages as they have scored four goals, one more than the locals.